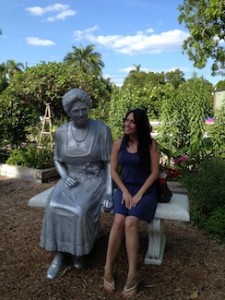 Ft. Myers, the winter getaway for Thomas Edison and Henry Ford (they were neighbors!), and there is no doubt why. White sandy beaches, beautiful landscape and warm gulf waters make this Florida west coat town a haven for families and general easy livin' folks. Calm breezes and lots of sunshine, Ft. Myers also packs a healthy food scene punch!
As always, when in Florida, I'm down for Latin food. El Gaucho Inca serves up authentic Peruvian and Argentinian food which is easy for a veggie eater. Lots of fresh veggies, beans and whole grains as well as juices, you can eat like an Incan king or queen! Awesome quinoa salads and sides like plantains, yucca, veggie tamale and other delicious veggies, you can have a fully veg platter that will leave you with a big smile on your face!
Sometimes you just crave a burger and Elevation Burger hits the healthy spot. Offering a vegan patty with all the fixin's your little heart desires, not only do they dedicate a grill to their veggie diners, they have healthier fries and tasty, organic condiments too!
I love great vegan baked goods for breakfast when I travel and Chef Brooke's Natural Cafe had what I craved. Vegan and gluten free options, Brooke's also carries unique grocery items along with smoothies, fresh juices, sandwiches and salads. Great for a quick bite, a treat or a healthy lunch and always served up with a smile!
I stumbled upon Happiness Healthy Cafe and figured, with a name like that, how can I go wrong? All I can say is spicy tofu naanwich! Yummers! They've got sandwiches, naanwiches, paninis, juices and some tasty Indian entrees. They are known for their lunch and dinner combos which are hearty and good on the old wallet ; ) Happy and healthy indeed!
That's it for now on Ft. Myers but a few more spots on the west coast of Florida coming up next!