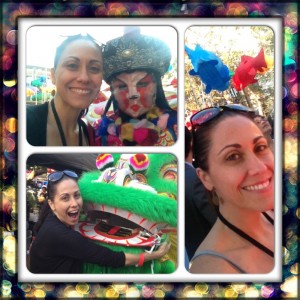 I had the pleasure of attending the opening ceremonies at the Hong Kong event at the Grove this month. It was a taste of what the Hong Kong Tourism Board has in store for me when I visit the fabulous city soon!
The event brought excitement and splendor of Asia's World City to Los Angeles' premier retail and entertainment destination with an unforgettable three days of dynamic cultural immersion highlighting gourmet Cantonese cuisine, talented performers and sophisticated jazz fusion music. Guests were also visually immersed in an exciting and exclusive art installation from celebrated Hong Kong architect William Lim, melding Eastern tradition with Western contemporary style for a dynamic and stunning visual display aptly titled "Hong Kong, The Big Catch."
Some of the great stuff I saw were the traditional lion and dragon dances as well as the face changers and other cultural performances. I felt like I was transported overseas! Guests got to experience three days of live cultural entertainment that included appearances by Hong Kong's renowned father-daughter face-changing duo Wai-Fei Hung and Wai Shui-Kan, the vibrant and colorful Dragon Dancers, the daring and acrobatic Lion Dancers, the melodious soundtrack of Los Angeles acclaimed Asian jazz fusion artist Bei Bei, and additional cultural activities including free Tai Chi classes and a special "Hong Kong Live At The Grove" themed Kids Club.
But the part I'm most looking forward are the vegan Cantonese dishes and restaurants that await me in Hong Kong! Stay tuned for these delicious eats and my second-to-none-experience coming soon!