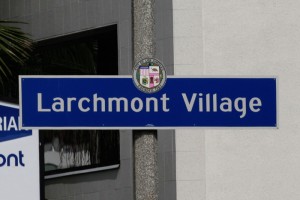 So I'm heading "Over the hill" into Larchmont Village. Located somewhat in Hollywood, just east of what is considered West Hollywood and not quite Korea Town, Larchmont is the epitome of old Hollywood. Beautiful homes, quaint bungalows and a "main street" (called Larchmont) packed with shopping, dining and general cuteness. One of my most favorite restaurants in LA is on this very street so let's hop to it!
Cafe Gratitude opened to rave reviews and lines around the block and continues to be one of LA's most popular vegan restaurants. A half raw, have cooked, organic and fully plant based eatery, CG is the "spin-off" restaurant of it's original in San Francisco. But I have to say the vibe and the menu are completely different than their bay area counterparts. It's hip, airy and freakin' fantastic. Every item on the menu is just divine from their raw pesto noodles to their nachos, veggie bowls to CG BLT. However, if you only have room for one thing, make it dessert. OMG! THE best dessert in town! Tiramisu, key lime pie, truffles…I'm salivating just thinking about it. I love the idea behind Cafe Gratitude, the atmosphere and the incredible food. 2 ginormous thumbs up and a must visit when in town.
If you're just looking to shop and stop in for a treat, the premiere place for that is Babycakes NYC. Having expanded to Los Angeles and Disney World Orlando, the original location can be found in Manhattan. A bakery to satisfy every sweet tooth, Babycakes features all vegan treats along with gluten free. Using all natural ingredients, it's a guilt free indulgence that will put a smile on anyone's face. I dig their caramel berry donuts and red velvet cupcakes, Mmmm!!
Now if you have a hankering for pizza, be you vegan or gluten free, Z Pizza is the spot. With options for vegans as well as gluten free pizza lovers, this is another health conscious chain that has exploded across the southland and shows no signs of stopping. I love the vegan works with ooey gooey Daiya cheese, vegan sausage and tons of veggies. Now that's a pizza pie!
All day breakfast is awesome. Hands down. And Larchmont Bungalow hooks it up! Go for the vegan breakfast burrito or a stack of vegan chocolate chip pancakes, take a nap an then shop! So yum, so nice and s cool! If you're not a big breakfast person, that's ok, they have vegan club sandwiches, vegan cobbs and all sorts of scrumptious eats!
Stay tuned for more Los Angeles neighborhood eats before we depart on some more international adventures!