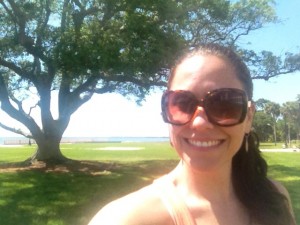 Sarasota, on the sunny west coast of Florida, most may know that it's the home to the Ringling Museum, Clown College and the renowned School of Art & Design (it's my hubby's alma mater!). It's also a great beach city as well as college town and with that, there ia always a plethora of delectable veg eats!
My first stop was at Dr. Feelgoodz. So darn cute and a really fun place to grab a healthy meal. With awesome vegan burgers, superfood shakes and even gluten free pizzas, you can feed your whole crew, guilt free. And I might add, the prices are terrific!
Nothing tastes better on a hot Florida day than a light raw meal. Ionie Raw Food Cafe has a lovely array of juices, salads, entrees and desserts that go perfectly with the menu of healing services that Ionie offers. I'm a sucker for the pesto kelp and kale noodles along with the true blood juice! Be sure to make time for a massage, yoga or even acupuncture before your meal!
It's not often that a vegetarian, let alone a vegan, can find much at a BBQ joint. So I was pretty floored when I found a dedicated vegan menu at Mr. Bones BBQ! The thai sesame noodles are fab and go well with a juicy vegan burger! I love that they don't just offer some lame-o corn and fries to the non-meat eaters so kudos to Mr. Bones to hooking up the green eaters!
I can't wrap up without mentioning Veg. A vegetarian and seafood eatery that also offers vegan and gluten free menus, it boasts some pretty fun stuff for lunch and dinner. I must say that the seitan brisket sandwich was my personal fave while the cauliflower "steak" came in a close second.  I also love that they are very vocal about using non-gmo tofu!
There is certainly a lot more coming up in Florida and I will be sure to keep you posted!