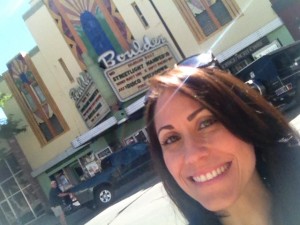 Colorado is a breathtaking state and Boulder is the epitome of the outdoor Colorado living state of mind. At the base of the rockies and home of the Flatiron mountains, hiking, biking and all natural living is what Boulder is all about. Home to brands like Earth Balance, Cliff Bar and Celestial Seasonings, Boulder rocks all natural food. So it's no problem finding some pretty rad vegan, gluten free and healthy eats here!
My first stop was lunch at Leaf Vegetarian. A serene and chic eatery boasting organic, local and seasonal vegetarian food, their vegan menu is to die for. I had the vegan crab cakes on delicious gluten free bread and made room for a pretty fabulous chocolate peanut butter pie. If lunch was that great, I can just imagine how fabulous dinners are at Leaf!
Breakfast is always exciting when you get to dine at a place like Julia's Kitchen. Yummy sprouted pancakes along with a creamy and nutritious smoothie sent me on my merry way with a happy tummy and a smile!
On my next day in town, I made it a point to visit Sun Deli. I was overwhelmed with the incredible amount of vegan and gluten free options from sandwiches and wraps to pizzas and calzones. I had a hankering for a hot sub so I chose the vegan chick'n parmesan sub and it ruled! Next time, I'm making room for more deli awesomeness!
No matter who you might be traveling and/or dining with, Turley's is a great option for everyone. With a full, American style menu that is also family friendly, they have some terrific vegan and gluten free dishes. My absolute favorite is their Red Quinoa Salad, OMG delish!
If you find yourself with some free time on your hands, the Celestial Seasonings Factory Tour is a great little diddy! It's totally free and fun for families and you get to sample all their delicious teas, see how it's all made and get to experience the mint room! So cool!
There's a lot more to talk about in Boulder so be sure to join me next week!