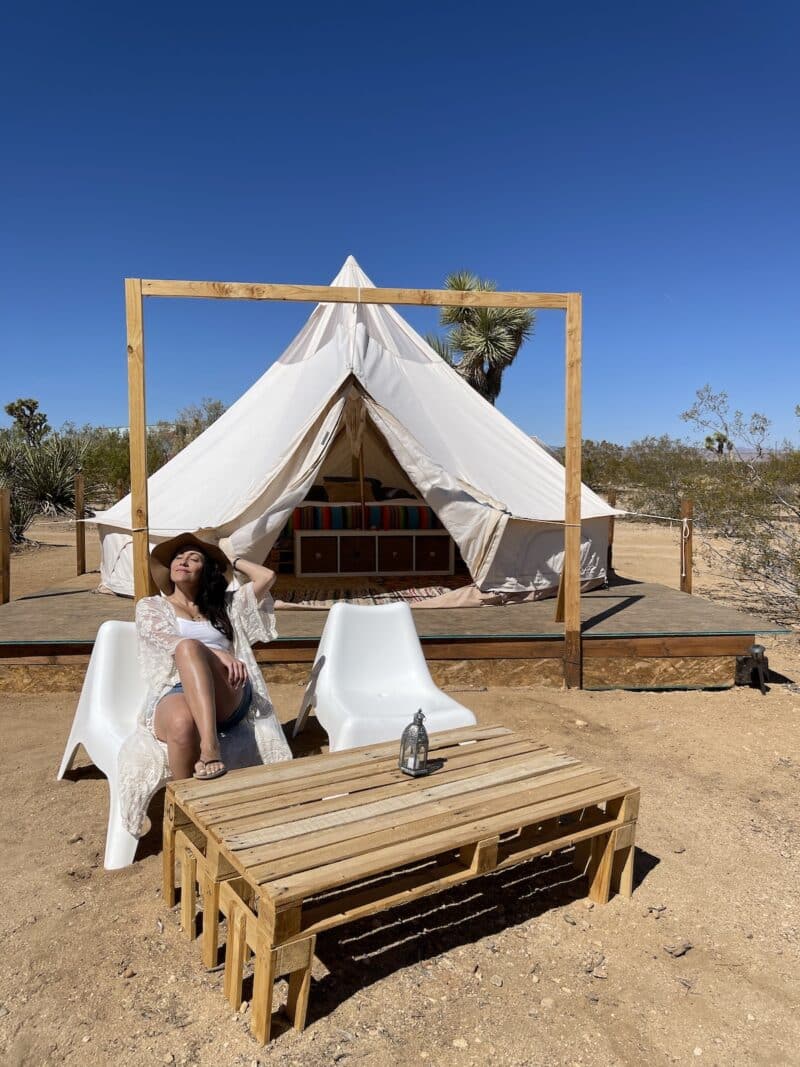 As much as we love the idea of camping – gazing at the stars, getting close to nature, toasting marshmallows on the fire – the reality can often be different. Think midges in the tent, a puncture in the airbed and rain confining you to your four walls of canvas.
Well it doesn't have to be that way. Glamping has given us the best of both worlds – adding many of the things we'd rather not be without, while also offering a few surprises and luxuries en route. Here are some of the most remarkable places you can stay in the UK.
Glamping with a hot tub
That's right, the hot tub isn't only for five-star resorts. There are many 'glampsites' that offer pools of warm bubbling water for you to relax in the evening with a glass of something equally as bubbly. A good option is Catgill Farm in the Yorkshire Dales, which has woodland-themed bell tents (with wood burners, hot water bottles and fairy lights) and timber pods (with central heating, en-suites and Netflix). They come with their own private hot tubs and stunning views, too. 
Motorhome glamping
Gone are the days of dingy caravans or builder's vans with a mattress thrown in the back. These days campervans and motorhomes offer home-from-home luxury, cleverly designed to fit everything into a small space. And, of course, you can take it wherever you like and set up camp in minutes. As with any vehicle, there's always the risk something can go wrong with it, so you'll need to get insured. Luckily, there are insurance companies who specialise in motorhomes, and so offer cover that's tailor-made to these vehicles.
Glamping in the trees
We don't just mean places situated in the forest, but actually elevated in the trees themselves. Many woodland-based glamping sites have treehouses you can stay in. One of these is Brook House Woods in Herefordshire that has a luxury treehouse, a hobbit house and a yurt. But the star attraction is the Goji tree tent – a red ball of canvas that hangs between oak and ash trees in a bluebell wood. Inside are two single sofa beds and a glass roof so you can enjoy the stars as you drift off to sleep.
Glamping with a copper bath
A real draw to Brownscombe Farm in Devon is the freestanding copper bath in what's known as The Cabin. It draws many guests to this quiet and scenic corner of the countryside. All the accommodation at the site – which includes six-man safari tents – has electricity, hot tubs (yes, The Cabin also has a hot tub!) and comfy beds, so wherever you choose to stay you won't exactly be slumming it!
If you like the idea of getting close to nature without being bitten by it, then there are thousands of glamping options around the UK. And it's not hard to find something a little quirky, as well as luxurious, for a trip away like no other.