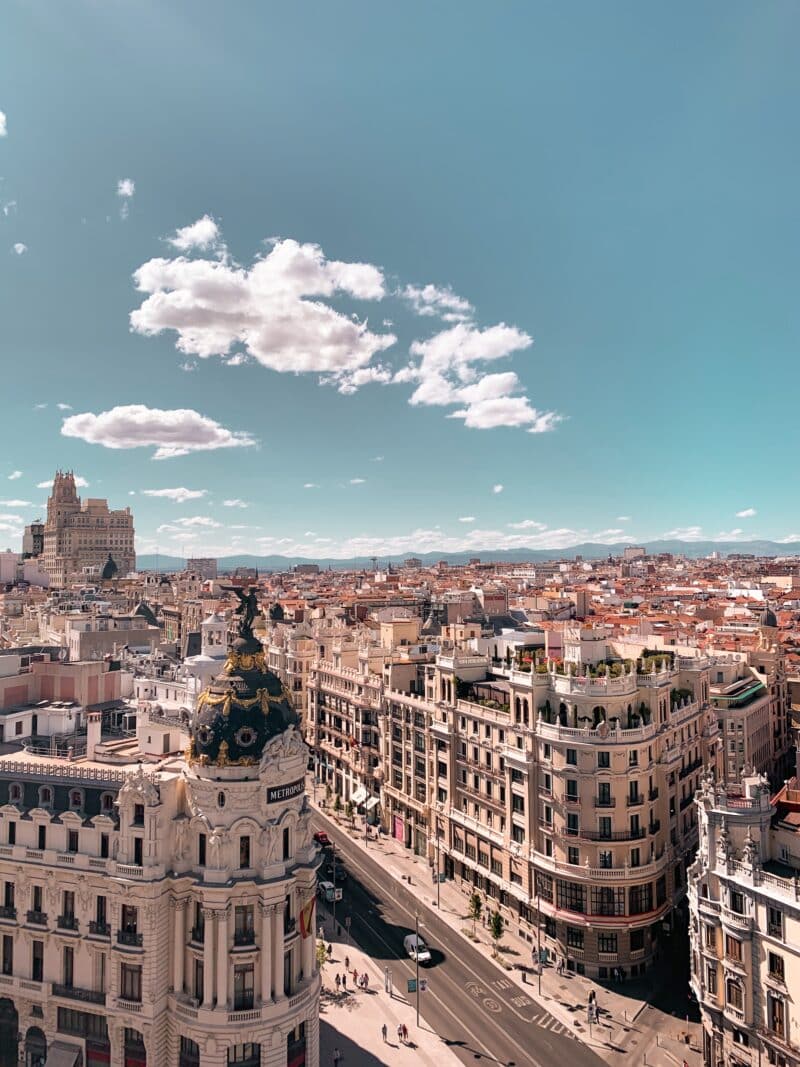 Madrid, the capital of Spain is one of Europe's top travel destinations. Madrid, a vibrant cosmopolitan city, pulsing with life and overflowing with energy, is unlike its neighboring modern capitals. Madrid is the perfect destination for a 3-day trip, thanks to its vibrant food scene, legendary nightlife, and world-class museums.
Travel to Spain from Israel and enjoy some of the best cuisines and most highly respected museums in all of Europe.
Day 1
The first day in Madrid is about visiting iconic buildings in Madrid's city center and tasting local delicacies. Although crunchy churros and hot chocolate aren't an idea of a filling breakfast, this is how many Madrilenos begin their day.  Head over to the Royal Palace with your stomach full of tasty churros and chocolate. This is one of the top three places to visit in Madrid and a great place to start your trip. The palace was built during the 18th century and is the largest royal palace in Western Europe. Highlights of the palace include the Throne Room, Hall of Mirrors, and Royal Armoury, as are the world's only completed Stradivarius string quintet and paintings by Caravaggio, Goya, and Velázquez.
Plaza Mayor is one of Madrid's most iconic squares, with inviting outdoor terraces and cafés. The plaza has existed for nearly as long as Madrid has been Spain's capital. Witness the elegant balconies (total 237), arches, and the beautifully painted facade of the former main city bakery, Casa de la Panadera.  If you are visiting Madrid in winter, you can see a traditional Christmas market in Madrid in December, dating back over 500 years.
Puerta del Sol has a lively atmosphere both during the day and at night, with numerous shops, bars, and restaurants. Highlight consists of the statue of the bear and the strawberry tree is the symbol of Madrid and a perfect Instagram spot.
Day 2
El Prado is one of the world's best art museums. When you are in Madrid, a visit to El Prado is a must. The museum hosts an impressive collection of European art spanning the 12th to the early 20th centuries. Velazquez, El Greco, Goya, Ruben, Pieter Bruegel de Vries (the Elder), Raphael, and Claude Lorrain are among the masterworks on display. "Las Meninas" by Velazquez and "The Naked Maja" by Goya should not be missed.
The most popular park in Madrid, Parque del Retiro, is only 8 minutes away from El Prado (via the Felipe IV park gate). It was once a royal park, but it opened to visitors in the late 1700s. Today, Retiro Park serves as a gathering place and a relaxing retreat for both locals and visitors. Enjoy a few good hours here by having a picnic, taking pictures, rowing or paddling a boat on the lake, or just enjoying the scenery.
Your next stop is Plaza de Cibeles. This iconic square is surrounded by magnificent buildings and centered by a stunning fountain representing the Greek goddess Cybele. This vast building has enough space for a multicultural center and a rooftop terrace with a bar and restaurant. Head to the rooftop terrace for some of Madrid's best panoramic views.
Day 3
For your final day in Madrid, explore Picasso's most famous painting, visit one of the city's iconic neighborhoods, and cap off your trip with a flamenco show.
Few train stations in the world are among the tourist attractions. Because of its beautiful tropical garden, the Atocha train station is one of the top sights to see in Madrid. It will take a few minutes to walk across the street to the Reina Sofia Museum.
The massive museum building was formerly a hospital. It now houses over 20,000 works of art, with over 2,000 of them on display. The impressive art collection consists of Spanish art. Among the highlights is Picasso's most famous painting, Guernica, and many of his other works. Salvador Dali and Juan Miró are also well represented.
Reina Sofia Museum is located in the Lavapies area, part of the Embajadores neighbourhood. Because you're already here, it's worth spending the afternoon exploring. La Latina is a little further away, but it begins where Embajadores ends, so everything flows together. In Lavapiés, diversity is the theme. While La Latina is steeped in tradition, it is the ideal spot for a drink and to relax on one of the many terraces. The best part about these neighborhoods is how colorful they are, thanks to the street art that now decorates old buildings, giving them a new life. This includes the Mercado de la Cebada, which has been transformed into one of the world's most extensive street art illustrations in recent years.
End your Madrid trip with a bang by catching a flamenco show at one of the city's best tablaos. Flamenco originated in Andalucia and is one of the things you should add to your bucket list when visiting Spain. Flamenco is about the guitar and the dancers, and Torres Bermejas has some very talented and passionate performers. The Alhambra-inspired interior, on the other hand, is a pleasant surprise. The show is accompanied by a drink, but there is also a show + dinner option available.