We've all been there, we spend eight to ten hours at our corporate job, come home hungry, rummage through our fridge for anything that has yet to spoil and then try to put together an edible meal. Enter, meal kit deliveries, an industry that decided to place a spin on ordering take out. While hopping on GrubHub and placing an order from a local restaurant has been a quick and easy fix for your munchies, the caveat is that we never truly know all the ingredients in our prepared meal, and often, it's quite pricy! This is where meal kit deliveries fill the gap between cooking your own food while not having to worry about what ingredients you may still have left in your fridge.
What are meal kit delivery services?
If you're an avid Amazon shopper, then you might have heard of one of their recent services – Amazon Fresh. One of the categories within Amazon Fresh are "Meal Kits", this is where you only receive the raw ingredients and a recipe card needed to cook that meal. When using meal kits to plan your dinner, you never have to worry about extra ingredients being left over since everything you receive within your kit will be used for that meal.
Even though Amazon is a humongous brand, they are far from the best meal kit company. At the moment, a company by the name of Blue Apron holds the top spot with nearly 60% of the market share! So what's the difference between using Amazon's meal kits or a Blue Apron; typically the quality of the meals. When it comes to dedicated meal kit companies such as Blue Apron, Sun Basket or Home Chef, they employ world renowned chefs to consistently prepare amazing recipes.
For the sake of our introduction to meal kit companies, we are going to particularly discuss Home Chef and Sun Basket.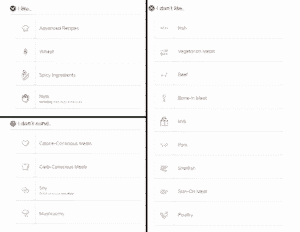 Home Chef
When first making an account with Home Chef, you'll be asked to create a "Taste Profile". They will then use the information from that profile to suggest different meals each week. Let's look at how the profile looks like:
Once your profile is completed, you head over to your "Delivery Calendar" where you would find all the available meals to choose from.
When you do choose a meal, keep in mind that each meal comes with enough ingredients for two servings. You do have the option to order either 2,4, or 6 meals per delivery. For a typical meal, the cost per serving is $9.95. That means that any meal choice above will be about $20. You'll be happy to hear that salads on the other hand are priced at $7.99 a serving, smoothies at $4.95 per serving and lastly fruit baskets at $4.95 per serving.
Once you decide on a meal, before selecting it, you'll be able to view all the ingredients that arrive to prepare that meal, as well as the nutritional value for each meal.
If Home Chef caught your attention, I recommend checking out this home chef review and grabbing their home chef coupon which discounts your first order by $30!
Sun Basket
You won't be finding smoothies or fruit baskets on Sun Basket, but if you're someone with dietary restrictions or are environmentally friendly – they're a winner.  Unlike Home Chef, Sun Basket has a vast selection of vegan meals available weekly, which I fully support as a vegan chef!
So how much would Sun Basket cost you?
When you opt for 4 vegan recipes per week, you'll end up paying about $11.86 per serving when we price in the shipping fee per serving as well.
Similar to Home Chef, you'll be able to see all the ingredients for each meal before you schedule your delivery, and nutritional facts are readily available as well.
It's also worth noting that all of Sun Basket's packaging is bio-degradable and their produce is organic – a big thumbs up!
Whether you order from Home Chef or Sun Basket, you can be rest assured that your ingredients come in well packaged as you will find in this sun basket review. Before you do place your order, you might as well pick up a sun basket promo code which will deduct $30 off your first order and $20 off your second order!
Recap
To be frank, meal kits are not the most cost-effective option for eating on a daily basis. It wouldn't take much to prepare a vastly cheaper meal using ingredients from a local supermarket but what meal kits do excel in is simplifying the process and suggesting very tasty meals. You might not want to have meal kits delivered on a weekly basis, but as a possible monthly treat? Why not!