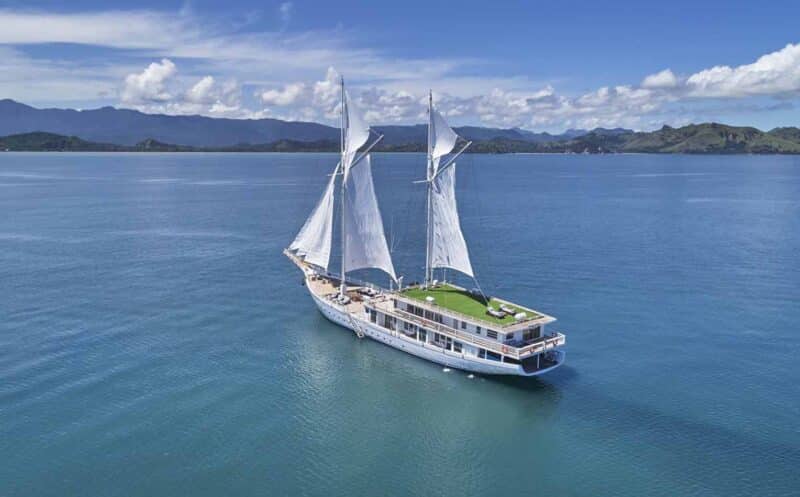 This once in a lifetime experience all begins in Komodo National Park; home to the unique and rare Komodo dragon. The park boasts of three islands; Komodo, Rinca and Padar, another twenty six smaller islands, the coastal stretch of Western Flores and also the converging waters of the beautiful Straights of Sape.
All the Komodo cruise routes within the Komodo Island, have been carefully selected for their beauty and attractions along the way and for their length as well. Short cruises will take shorter routes and long cruises will of course take longer routes.
The Komodo liveaboard cruise is a very exciting excursion, whereby you will find cruise itineraries have been prepared for you by the experienced cruise staff and it extends to a wide range of activities including: diving, snorkeling, fishing, trekking on the islands spearfishing, rolling donut rides, and tow surfing among others. This review will look at these activities in depth.
Activities during the Komodo liveaboard cruise
Snorkeling in one of the meccas
The Komodo National Park is an unspoiled holiday destination and one of the most exciting activities on the Komodo liveaboard cruise is snorkeling. You can undertake to the beautiful coral reefs of the island and the surrounding isles as well.
Snorkeling as known to many is a water based leisure activity and just about anyone can enjoy it. On this snorkeling trip with a mask and the snorkel, you can observe a huge number of marine species including octopuses, sea horses, and sea urchins. They are all found in these extraordinary waters. You will also discover underwater landscapes at a very short depth.
Scuba diving in the Komodo National Park
Thanks to the unrivalled and amazing flora and fauna of the Komodo Island, scuba diving offers supreme water spectacles. This diving trip takes you to one of the most revered diving sites in the world.
The diving cruise is an opportunity to discover more than one thousand species of fish including reef sharks, manta rays, and blue fin tunas, and not to forget smaller species like the sword fish, orangutan crabs, and pygmy seahorses and plenty more besides. The Komodo seabed runs riot with color. Also diving should be supervised by a qualified instructor in case of mishaps.
Fishing on the edges of Komodo National Park
Fishing in and around Komodo National Park is one of the most spectacular activities while on cruise. There are wonderful spots that you will be shown, where there is an abundance of barracudas, beams and tunas and plenty more besides.
However it is important to note that, fishing can only be done at specific times due to the uneven weather in the area. Komodo National Park is known for its strong currents, upwelling and shallow corals. All these can be a problem when navigating a ship in harsh conditions. Nevertheless with the right timing fishing is a breathtaking experience.
Trekking on Rinca and Komodo islands
Trekking in Komodo will cover a number of different locations. During this trekking experience, you will be subject to breathtaking views of the island and you can walk to the very summit of the island as well. You will feel comfort at the sight of the natural surroundings.
While trekking you will be in the company of locals who will be the guides and lead the way. You can venture into the lush vegetation for a leisurely wander. Exploring these exotic locations will enable to see the Komodo dragon in its original habitat as well as gray monkeys, wild buffalos and giant bats among others.
Tow surfing
Tow surfing is a board sport that you can take while on this cruise. It is a hybrid of skiing and skateboarding, it is a fun filled activity and it does not have any age limitations. It is a good way of seeing dolphins up close in Komodo.
Conclusion
To sum it all up, this cruise is filled with so many activities and personal preference will come into play on the activities one wants to engage in.