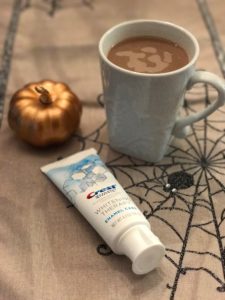 One of my favorite things to do this time of year is curl up under a blanket, flip on a scary movie and sip on a delicious pumpkin spice latte! I love ordering them when I'm out too, chatting with friends, enjoying the crisp fall air. However, I know the scariest thing about drinking these all season long isn't just the calorie intake. It's the havoc my tasty PSL unleashes on my teeth!
I'm proud to say I take really good care of my teeth and have all my life. In fact, I've never had a cavity! But I do worry about teeth stains and wearing down my enamel with all my yummy coffee drinks. Which is why I'm excited to have stumbled upon the NEW Crest 3D White Whitening Therapy collection! Just in time for switching from PSL season to Gingerbread latte season!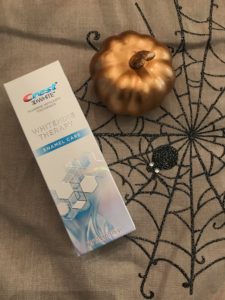 Unfortunately, coffee helps the bacteria in your mouth to create acids that can lead to tooth and enamel erosion. This can cause your teeth to become thin and brittle. Coffee can also cause bad breath, or halitosis, because it sticks to the tongue. Bad for so many health and beauty reasons but oh so good in the tummy!
I'm sure you've heard of and even tried Crest's whitening products in the past. But now, Crest has expanded its 3D White product line to include the NEW Crest 3D White Whitening Therapy collection. Their newest collection features Enamel Care and Sensitivity Care pastes, perfect for those who want to protect while whitening. Both pastes beautifully whiten and nourish teeth to repair weakened enamel. In fact, Sensitivity Care has added ingredients to help soothe sensitivity pain. This brand new collection will help you to #WhitenwithBenefits!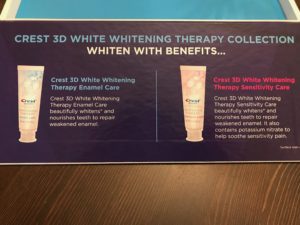 With many choices in the teeth whitening space, many worry about the effects on enamel. And rightfully so! None of Crest's whitening products harm enamel, but this new new product allows you to nourish your teeth to stengthen enamel WHILE whitening! Eliminate compromise!
With consumers typically having to choose between health and beauty, the new Crest 3D White Whitening Therapy Collection allows you to have both in one easy-to-use system. Just brush twice daily and see the results in no time!
I've used the product and have to say that the results are tremendous! Check out my transformation!