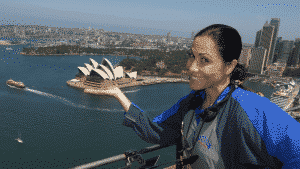 Are you looking to travel to Australia soon? While Australia may be best known for its beaches and easy access to the Great Barrier Reef, the country also has some great architecture that's worth checking out. What architectural sites should you add to your list to capture a selfie?
Check out this guide to discover the top famous Australian architecture structures to add to your list. 
1. Sydney Opera House 
No list of great Australian architectural sites is complete without mentioning the Sydney Opera House. 
Founded in 1973, the Sydney Opera House is a multi-venue performing arts center. The opera house's iconic design actually came into being thanks to a design competition.
While many people think the opera house was designed by a famous Australian architect, this is not the case. 
In 1956, 233 designs were submitted to the international competition. Jorn Utzon from Denmark was announced as the winner, and he received a cash sum for his design. Construction began in 1959 and took 14 years, and close to 11 million people visit the Sydney Opera House each year. 
2. The International Towers 
The International Towers, are in Bangaroo, which is Sydney's financial district and a huge commercial hub in the Asia-Pacific region. 
Designed by Ivan Harbour and Richard Rogers, the towers were designed as three siblings, with each having a separate identity. These striking towers make up an essential part of Sydney's famous skyline. 
3. One Central Park 
One Central Park is another Australian architectural wonder that you need to capture a selfie in front of. 
This is a mixed-use, award-winning building that is located in the suburb of Chippendale, just outside of Sydney. This building is composed of floor to ceiling glass towers that are covered in a lush floral canopy. 
Hundreds of Australian flowers and plants hug this gorgeous building, making it a beautiful blend of architecture and nature. The building is also surrounded by a lush, tranquil, 64k sqm park that serves as the perfect place for unwinding and relaxing with friends and family. 
The park is home to tranquil groves that you can walk or cycle through, as well as an open-air cinema and chessboards. It also hosts the occasional market and music festival. 
4. Dr. Chau Chak Wing Building, University of Technology Sydney
One glance at the Dr. Chau Chak Wing Building and you'll feel as if you've stepped into a Dr. Seuss novel. 
This is one of the most famous buildings in Australia. 
The building is famous for its curved walls that make it seem like it's being crumpled like a piece of paper. The 12-story building was designed by famed architect Frank Gehry, and it was completed in 2014. 
5. Museum of Contemporary Art 
While the Museum of Contemporary Art in Sydney houses some of the most cutting-edge art in the world, the building itself is also a wondrous piece of art. 
This art deco-inspired building serves as a beautiful contrast from the many historical structures that surround it in the Rocks area. Before heading into this famous Australian building, you'll definitely want to snap a few selfies from the outside. 
If you plan to visit the museum soon, we recommend wearing protective gear from CDBS Construction Australia. 
Famous Australian Architecture: Are You Ready to Visit These Buildings? 
As you can see, there are a lot of famous Australian architecture sites that are worth visiting. Just remember to pack your selfie stick so you can get some great photos! 
Be sure to check back in with our blog for more travel-related tips and tricks.