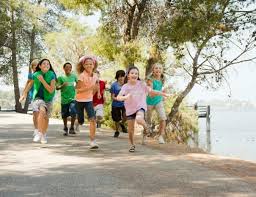 School is out, which means it's time for summer! The season brings many opportunities for fun in the sun. But when you're kids are at home, it can be a job just to find exciting activities to keep them occupied during the day. You want to plan educational, stimulating, and great days so your family has a summer to remember. And you need to do all of that while making sure everyone is safe.
You don't need to go on lavish vacations or sign up for every summer camp to have an amazing summer. There are hundreds of activities for kids of all ages to enjoy. Take your toddlers to the park or let them play in the sprinklers. Your elementary-aged kids may enjoy crafting or going on a walk through nature. And even your teens and tweens can enjoy summer fun with pool parties and nighttime adventures. So whatever you're summer looks like, be sure you have a great list of activities for your kiddos to safely enjoy.
In the Backyard
You don't have to leave your home to create a memory. There are great ways to enjoy the beautiful weather in your own backyard. Especially if you have a pool area. Just be sure you're keeping your space safe from wandering kids. You may want to get children fences around the water so no one falls in without a parent or lifeguard present. Pools are a great play area, but be sure your pool fence keeps kids out when it isn't safe.
Here are a few more backyard activities your kids can enjoy in the sun:
Swimming
Running through the sprinklers
Sidewalk chalk designs. Encourage their inner artist while decorating your driveway.
Water balloon fight
Scavenger hunts that end with hidden treasure.
Relay races
Indoors
Even on rainy days, there are great ways to enjoy your time inside!
Build a fort. Let their imagination run wild while you create your own playground inside
Board games are the opposite of a boring activity. Bring out the cards and competition!
Put together a puzzle.
Have an indoor picnic or camping trip.
Food Related
Summer comes with sunshine and delicious treats. What can you create in the kitchen?
Make homemade popsicles.
Create a sundae bar. Your kids are sure to love making their own world-famous ice creams sundae.
What better time to teach your kids how to create signature dishes than on a summer afternoon?
Start your own unique pizzeria with specialty family pies.
Artsy Fartsy
DIY projects and crafts are a great way to encourage artistry and creativity in your kids. So this summer, let the artsy side out.
Develop a show where your kids can sing and dance and tell their own stories.
Bring on the finger paints or any other technique to make beautiful art.
Build something. Whether it be with clay, play dough, or legos, there is an art in creating something new.
Pick flowers and create a specialty bouquet.
Create beaded friendship bracelets.
Out and About
Summer is a great time to explore unique parks, museums, and restaurants in your hometown. Consider planning a few day trips to enjoy the area around you. Depending on your location this could be an adventure like surfing lessons for beginners or discovering the joys of geocaching.
Visit national parks and other hiking spots.
Go to the farmers market and pick out some fresh foods for the family to enjoy.
Check out some local museums for an educational and fun experience.
Play some mini-golf or go go-karting. There are plenty of fun outdoor summer activities like this.
Picnic at a local park.
Take in an evening concert.
Nighttime Fun
While a lot of summer activities are specific to being outside and enjoying nice weather, there are plenty of great summer activities once the sun goes down.
Make s'mores. This one is a total classic.
Catch fireflies.
Go to a drive-in movie and make the trunk of your car a comfy place to watch.
Stargaze and enjoy all the beauty of the night sky.