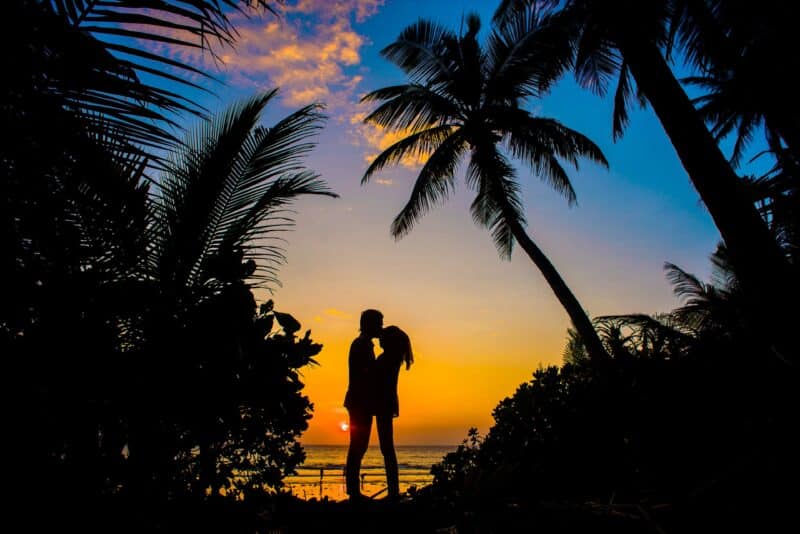 Let me paint you a picture. You're laying down getting drenched in the warm sun as you hear the soft waves spreading towards the shoreline a few meters away from you. 
You're in your most comfortable state, sitting and looking at the sunset at the deck of a beachfront restaurant. As the daylight slowly descends, you look back on how you discovered one of the world's most famous natural attractions near your place. 
To top it off, you're there with the love of your life. 
Doesn't that sound romantic?
While that might sound far-fetched, it isn't. A vacation spot in Tropical North Queensland might just be what you're looking for. 
This place can be found in Palm Cove – a humble village along the seacoast of eastern Australia- called the Reef House – one of the top spots when it comes to romantic holidays in Australia.
What makes the Reef House worthwhile of its stature? Might I say that this beachfront boutique hotel exclusively for adults is created to suit your celebratory needs whatever and whenever the occasion is. 
Whether you're celebrating anniversaries, birthdays, engagements, or even your long-awaited honeymoon, this place will provide you the exquisite blend of action, adventure, relaxation, rejuvenation, and most importantly, romance.
May it be a special occasion, or just a breath of fresh air with your partner, stick with me to discover why the Reef House is the perfect romantic holiday getaway. 
The Reef House
To those who are familiar with the place, the Reef House is an establishment of Palm Cove.
Being one of the structural pioneers in the town, the Reef House has progressed from a simple bookmaker's home into a boutique hotel with major colonial style influences, stationed in arguably, one of the most enviable locations around Tropical North Queensland.  
The place is just the perfect size made with its 67 rooms – a large area where you can enjoy their facilities, but not too big that you'll get lost amongst the large number of other guests. 
Moreover, what makes the Reef House unique from other hotels and resorts is the personal touch. This might just be what would make your trip to Palm Cove memorable. 
For 50 years, the Reef House is consistent with their effort in maintaining their luxury and comfort through their praise-worthy and tailored services. And of course, the breathtaking location couldn't be missed. 
In the Reef House, you are the master in creating the trip you've been waiting for. 
Here's Why the Reef House is Ideal for Romantic Getaways
A perfectly balanced environment is a must when shaping your dream vacation and the Reef House is what you're looking for – here are the reasons why. 
Outstanding Private Sanctuaries
Relaxation shouldn't be the only thing you can feel when you're in the right hotel room or suite. 
With its tropical inspired yet luxurious accommodation, the Reef House sets up a sense of tranquility that's hard to top off anywhere else. 
Should you be there with your loved one or your family, there is an accommodation fitted for you. From rooms and suites to apartments and villas. 
Every room presents you an indoor and outdoor living options. Have your dinner on your very own balcony or patio, take a sip of bubbly in your private spa, or stare at the ocean while swinging from your double love swing. Relaxation and comfort are endless at the Reef House. 
Beachfront Dining Under the Stars
Having a taste of the local food and delicacies is one of the priorities when in a holiday, even this can be a romantic experience. 
The Reef House restaurant, serving since the 1960s, is the perfect place for an intimate and unforgettable dining experience. 
Feel the warmth of the setting sunshine as it disappears slowly into the Coral Sea. You have a view of the ocean in front of you as well as the beach lined with palm trees which Palm Cove is famous for, all in the comfort of your sit. 
The mood set up by the candlelight, along with the scrumptious courses and mastery of the in-house sommelier, will surely make this an unforgettable meal. 
The restaurant offers all three meals – breakfast, lunch, and dinner. In addition to this, seafood platters are available almost anywhere, a degustation menu you shouldn't miss, and a wine list with more than 200 bottles accessible at any given time. 
Poolside service
When talking about romance, relaxation should be in there as well. Exactly the reason why the pools of the Reef House is a must try. 
Have a sip from your tropical cocktail on the poolside while tasting hors d'oeuvre handed in by the daily butler service. This could be your routine while staying in here and have everything you want within a call away. 
Help yourself with a cold towel at 11am. You might also try joining in the tradition of indulging local tropical sorbet by the pool at 3pm. 
The Reef House offers two pools, from an adults-only comfort pool to a heated mineral pool. Moreover, both have butler service and tropical sorbet within your reach. 
If you want to try an active and immersive pool activity, you can always try taking an aqua aerobics class.
Total Rejuvenation at the Reef House Day Spa
If you are a fan of day spas, then this wouldn't be the first time you'll be hearing of the Reef House Day Spa, which in itself, is already a destination for tourists. 
What sets this apart from other day spas in the Tropical North Queensland are following:
Rituals and treatments are available according to your preferences. Dip a foot in the water and try their basic massages. If that's for your liking, go ahead and indulge on a multiple-day treatment package. You have the freedom to choose whichever is best for you.
The Reef House Spa is abundant of treatments waiting for you to indulge into. Treat yourself with facials, manicures, full body massages, even botanical-based Waterlily and marine-based Phytomer products and treatments – the Reef House is the only day spa where you can lavish yourself with Phytomer products. 
Signature traditions
If you weren't sure what we meant by personalized touches of the Reef House, here are the things to look out for that makes it different among other resorts and hotels. 
Traditions at the Reef House are deeply rooted so much so that the activities you would get to experience have histories of their own. 
Some of these traditions can be traced back to the 1970s. David Thompson, a brigadier responsible for the property that time, has a vision that the guests should feel at home in the Reef House. 
A full access of the onsite bar was opened to the guests where they would help themselves to drinks of their choice and sign chits, just like the tradition of an officer's mess. An honesty charge back system is at work here. 
He also recommends the guest to get together as the day ends and have a taste of the Brigadier's rum punch while having a chat with one another.  
Both of these traditions are still running so you would definitely feel as if you're back home. 
If none of these are to your liking, you can also enjoy the following activities with your partner:
Cocktail classes

Beachfront yoga

Wine & digestive tasting

Mindfulness sessions

Stretch and breathe classes

Vintage Cruiser Bicycle Rides
A Location to Die For
Just the location of the Reef House is honestly, an already enough reason to go on a lovable trip with your partner. 
Found along Williams Esplanade, the Coral Sea is just a few stretches away. Take a walk beside the palm trees along the coastline and feel the serenity that the gentle waves of the ocean.
Most of the rooms and suites has stunning view of the ocean but you can always go for watching it from the restaurant's deck or from the beach itself, shy of a few meters away. 
The place is only a short distance away from town's cafes, boutiques, and bars. Exploring had never been so easy!
It's a Launching Pad into a World Waiting to be Explored
If you are looking for different ways to spend a day or two with your special loved one, the Reef House is the ideal place as it is situated between two of the most wonderful natural attractions that exists – the Wet Tropics Rainforest and the Great Barrier Reef. 
Catering to your needs, each of these have their own set of activities waiting for you to experience firsthand, namely:
Wet Tropics:
Brett's Outback Tasting Adventures

Hot Air Ballooning

Waterfall Wanderers

Mosman Gorge

Kuranda Scenic Railway and Skyrail Cableway
Great Barrier Reef:
Sailaway Sunset Sail

Tropical Island Day Trips

GBR Helicopter Flight

Outer Reef Diving Adventures

Sand Cay and Island Hopping Tours
Staying at the Reef House gives you access with the inhouse luxury concierge whom you can discuss your preferences to make the perfect itinerary. Make the most out of your time doing things you would love!
Capture the Romance at the Reef House
If a romantic trip is what you're wishing for, the Reef House is all you need. 
Ranging from packages offer of one-night mini escapes to 7-night retreat packages, rest assured that you'll find the ultimate option for you and your partner. 
Romantic packages provide you with fit-to-mold accuracy of how you want to celebrate your special day. Get pleased with inclusions like premium sparkling wine, daily breakfast while gazing out over the Coral Sea, and an intimate three-course a la carte dinner at the Reef House Restaurant. 
If privacy is more up your alley, you can opt for private dining and picnic experiences. 
A pre-made takeaway picnic bundle is provided if you chose picnic experience. Find the perfect spot yourself or you can choose the beach front picnic, wherein the staff will prepare all the necessary material you need including chairs, table, picnic mat, and umbrella on the beach front of the hotel. 
These picnics, together with array of fun activities onsite and offsite can be arranged with the help of our luxury escape planner here in the Reef House. 
Create the mold of your ideal romantic holiday with the Reef House right now!