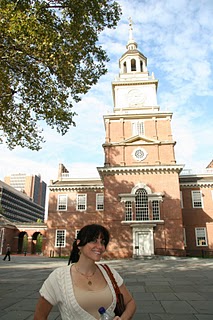 Ah, the city of Brotherly Love, home of the authentic Philly Cheesesteak and so much more. If you're in the Mid-Atlantic area, it's worth making a weekend out of the great city of Philadelphia, Pennsylvania. The town has a certain sense of romance about it, with cooler months ahead in the Fall and Winter. So as you're online shopping for the perfect backpack in black to be your weekender bag for your visit, let's take a look at why Philly in the Fall is where it's at.
If You Love History, You're In Luck 
You can kick things off with a horse drawn carriage tour of the historic homes in the city, which really sets the mood. These tours are private, however, so they require reservations ahead of time. From there, you have to see the Liberty Bell as well as Independence and Congress Halls. In Philadelphia, you also have the rare opportunity to visit the home of Betsy Ross, best known as the creator of the American flag. The Museum of The American Revolution is a must-stop as well; the experience there is truly immersive. There are plenty of other historical places to visit in the city, but just hop on your smartphone and decide what's best for you and your travel companions.
There's A Lot Of Art To Enjoy 
On top of all the incredible street art and murals in the city, there are several museums that you have to visit in Philly. Of course, topping the list is the Philadelphia Museum of Art. With a rotation of impressive visiting exhibits as well as resident ones, it's a must. You should also check out The Academy of Natural Sciences of Drexel University, especially if you're traveling with children or you're young at heart! Or really, just a nature enthusiast.
Additionally, if you're traveling with young ones, or maybe you're an architect, Legoland is a magical experience for people of all ages. If you're into Nautical History, the Independence Seaport Museum is a fun stop to make during your weekend in town. The great thing about Philadelphia is its walkability and easy access to public transport, so you don't even need to rent a car to get in a ton of art and museum experiences in one day. 
The Food Can't Be Beat
Philadelphia is, of course, known it's Philly Cheesesteak sandwiches, but there are some world-class restaurants in the city too. Sure, you could ask a local their favorite spots, but you can also go prepared a little bit. Some of the Best Food in the city will be found in local food trucks as you're walking around exploring, but several worth mentioning are – Talula's Garden, located in Washington Square. This restaurant not only offers fine dining but has tons of vegan and vegetarian options if people in your party have dietary restrictions or lifestyles that need such accommodation. You should also check out Cafe La Maude, especially for their weekend brunch. Cafe La Maude is located right in the heart of Philly on 4th street and offers Lebanese and Mediterranean fare. Of course, there are also convenient cafes and restaurants near all of the attractions you'll be visiting, so you won't have to search far to find something you and your travel companions fancy. 
Speaking Of Attractions 
Beyond the historical significance of the city of Philadelphia and all of the art to be taken in, there are other fun attractions to enjoy on your weekend there. There is Philly Mini Golf in Franklin Square and the Parx Liberty Carousel at Franklin Square. If you're looking for some genuinely Medieval fun, you have to check out Sorcerer's Quest – The Dragon's Lair. Designed for three to eight players, this event has you (a wizard) set out to destroy the Dark Lord in this fun escape room fantasy. 
Like all great American cities, Philadelphia has so much to offer if you're the type who loves to plan your weekend vacations to a "T." Equally if you're more of a fly by the seat of your pants type traveler, there are so many sights and experiences to take in, your weekend could fly by just picking things at random. Plan your trip now, as it's been shown that travel is a great boost to your mental health and happiness; and the greatest part is, you'll be left wanting to come back for a second or third time. Happy Trails!