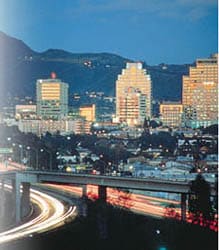 Glendale just recently celebrated its 110th anniversary, and in the last century, it's packed a lot of work into creating a space that's both entertaining and beautiful.  If you're considering a trip to Arizona and want to get the most out of Glendale, these are the top stops you should make!
Take A Hike In White Tank Mountain Regional Park
When most people think of Arizona, they think about stretches of beautiful dessert that seem to go on forever.  The White Tank Mountain Regional Park gives you those views while offering a safe and hiker-friendly path. 
You can enjoy everything from petroglyphs to beautiful waterfalls, each sight more appealing than the last.  In the early spring and late fall, when the temperatures are more moderate, you can enjoy camping under some of the clearest skies you'll ever see. 
Enjoy the Westgate Entertainment District
If a day of fun for you sounds like over eight million square feet of shopping and restaurants to get away from looking at Glendale apartments, this district has it for you!  
Dozens of stores, galleries, and eateries combine into a dazzling space that pulls in over 22 million visitors every year.  Although it's gone through many different reimaginings, the best time of the year to visit is in December, when the district pulls out all of the stops for fun holiday decor.
Get to Know History At the Deer Valley Petroglyph Preserve
Because of Arizona's unique climate, there's a lot of history that's been perfectly preserved and is easier to find. For example, the Deer Valley Petroglyph Preserve is a 47-acre nature preserve with over fifteen hundred petroglyphs visible.
Originally found only because of construction that was going to be taken on in the area, this is now part of the National Register of Historic Places and is known as a Glendale and Phoenix point of pride.
Have Some Responsible Fun At the Desert Diamond Casino
Casinos can be a lot of fun as long as you're responsible while you're enjoying them!  The Desert Diamond Casino is well known for its large range of games and its great food court.  The bright lights on display outside the casino are eye-catching, and those who stop in say they have a great time.
Glendale is the perfect mix of enjoying city life and its perks while also getting to be in touch with nature and the area's history.  If you have a chance to stop in, consider enjoying some of these attractions while you're in town!