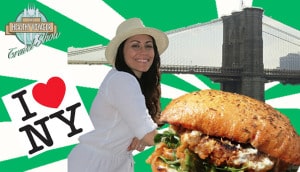 If you're planning a vacation in New York City, eating delicious vegan food is likely to be on top of your list. So before you jump right away to the list of the best (affordable, lip-smacking, convenient) vegan eateries and cafes in Manhattan, a touristy adventure through the city is planned in a one-day bus tour around these venues.
For a bus tour food crawl of Manhattan, as a helpful hint, keep an eye out for these identifiers: (V)- fully vegan, (Veg)- vegetarian restaurant with vegan options or (N) Non-vegan restaurant but has vegan options. Next, plan your tour accordingly:
Book proper transportation
Often, planning a food bus-tour across the city end up taking you more than a single day. Make sure to note down how many people you plan to travel with and which restaurants you wish to hit, check out Manhattan charter bus rentals online and make early bookings. It is convenient to go for a minibus or a charter bus, especially if you are traveling with a big group. Just in case you don't know how to charter a bus, here's how to go about doing it:
Once you've finalized who you will be traveling with and listed the places you wish to go, making the booking is pretty easy. If you are traveling with over 40 people and plan on being on the road for a while, a charter coach bus is a better option. It comes with WiFi, power sockets, a bathroom, comfortable seats, huge legroom and enough luggage space to stuff all your bags in. For a smaller group, say about 30 or so people, and a weekend's worth of road tripping, a mini coach should do fine too as long as you make multiple pit stops so people can stretch their legs and go to the bathroom. If you are a film club on a tight budget, a school bus having WiFi, power sockets and comfortable seats can comfortably fit over and around 20 people
Choose your eateries wisely
Finding pocket-friendly vegan restaurants in Manhattan is a metaphorical needle in a haystack/back-alley dumpster. The Big Apple bursts at the seams with the best of the best (for a premium) and the worst of the worst (for a slightly smaller premium).If you ask the New Yorkers for suggestions, you'll probably end up watching everyone clamoring to opine on the best cheap eatery and how it definitely a better deal than everything else. Yet rarely will their choice reflect something that isn't covered in cheese or stuffed with mystery meat that will semi-permanently anchor your stomach like the USS Intrepid in Hudson Harbor.A vegan in New York's existence need not necessarily be spent in Whole Foods during the day and lurking inside questionably decorated, overpriced vegetarian bistros at night.
To avoid such confusions, below are listed some alternatives, so that you know where to look for delicious cheap vegan food in Manhattan on your food crawl:-
The Buddha Bodai Kosher restaurant
The tag says that this is a vegetarian restaurant, but all the food here is actually vegan. There are a lot of dim sum, veggie and a la carte dishes to choose from. And, for people who used to love a bit of barbecue meat before they converted to veganism, know that the mock meat here will take your breath away with their crunchy, juicy goodness.
Vanessa's Dumpling house
This is a restaurant that doesn't just serve vegan food but does flaunt a lot of cheap and delicious options. Skip past the signature dive bar French fries and dive head-first into the steamed or oily veggie options. Saying that this place has something for everyone is an understatement. The food is way better than the customer service and our personal favorites include sesame noodles, sesame pancake and veg dumplings. The noodles here are handmade and delicious.
Riverdel Cheese, Essex Market
While LES might be generally expensive, eating here generally isn't. This is a vegan shop that can take care of all your cheesy needs. You can sample the multiple kinds of cheese available and go for multiple tiny wedges. But definitely don't forget to try their many sandwiches, especially their croissanwich with vegan ham and cheese.
When in Manhattan, you will never run out of options. So, make sure you do your research, follow your favorite vegan foodies and find eccentric little gastronomic delights of your own.