*This is a sponsored post written by me on behalf of In The Raw and SheSpeaks. All opinions are entirely my own.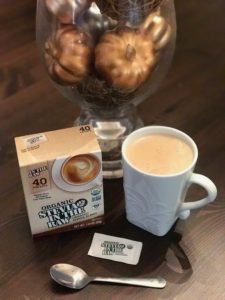 If you can believe it, the holidays are right around the corner. Where does the time go? The impending season of festivities from Halloween through the new year means tons of baking, sweet beverages and all sorts of treats that aren't so good for us. So it's important to find healthier alternatives so that we can still enjoy all the flavors of the season without the weight gain and sugar induced illness.
However, many alternatives tend to claim to be better for us but upon a closer look,  they actually aren't. Well, say hello to Organic Stevia In The Raw®! A natural alternative to sugar and artificial sweetener, made from the stevia plant leaf, Organic Stevia In The Raw tastes great in all your beverages and even baking!
USDA organic certified, non-GMO project verified, vegan certified, a clean ingredient list and naturally gluten-free, Organic Stevia In The Raw sweetens your foods and beverages at only 3 calories per packet!
New Organic Stevia In The Raw is the most recent addition to the In The Raw family of sweeteners. Available in convenient packets, Organic Stevia In The Raw provides a delicious sweet taste for any sweetening occasion, perfect for everything from beverages to sprinkling on cereal or fruit, baking to even a tasty barbecue rub seasoning. Each packet is only three calories, but provides the sweetening equivalence of two teaspoons of sugar, which contains 32 calories.
Organic Stevia In The Raw a great choice for people trying to live a healthy lifestyle. So if you're using it for beverages, the cup for cup product measures just like sugar – with a cup of Stevia In The Raw providing similar sweetness to a cup of sugar. For recipes that do not require baking, you can replace all added sugar with Stevia In The Raw. Examples include recipes for sweetened beverages, smoothies, sodas, sauces, frostings, icings and glazes.
If you are looking to use Organic Stevia In The Raw for baking, be sure to replace only half of the total amount of sugar with Stevia In The Raw®. Just in time for the holidays, you may just have the healthiest new year yet!
Interested in getting some Organic Stevia In The Raw for yourself?  Click here! At only $3.19 per 40ct Packet Box, you can always have some at home, your office or even on the go!  Or better yet,  enter to win the Shespeaks giveaway where you could Win Organic Stevia In The Raw® Swag with a One Month Supply of Organic Stevia In The Raw or a $50 Grocery Gift Card! What a "SWEET" deal!