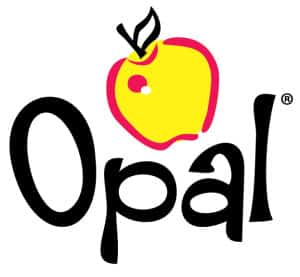 It's the new year and we all want to eat a bit healthier and make our world a better place. Which are really 2 very different things but with Opal® Apple, you can do both! These are some of the tastiest apple varieties I've ever had the pleasure of eating and cooking/baking with and what they stand for and how they give back just makes Opal Apples all the more sweet!
Opal apple is the apple with a purpose. Grown only in Washington by Broetje Orchards, this cross between a Topaz and Golden Delicious was introduced by FirstFruits of Washington in 2010. Here's what makes Opal Apples super delicious:
Starts sweet and finishes with a slight tang plus a nice crunch
Naturally resists oxidation and is slow to brown after slicing
Non-GMO
Seasonal – Available only between November – March or while supplies last
Opal is best eaten right out of hand – they don't stay around long!
The non-browning characteristic makes it great for lunch boxes, snacks, salads and other sliced uses
Opal holds up well for baking and stays firm when cooked
Its distinctive color, flavor and texture are not the only qualities that make this product unique: Opal apple was created to make a difference in communities across the nation.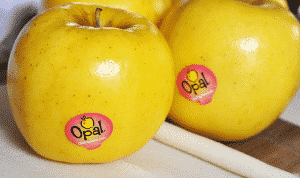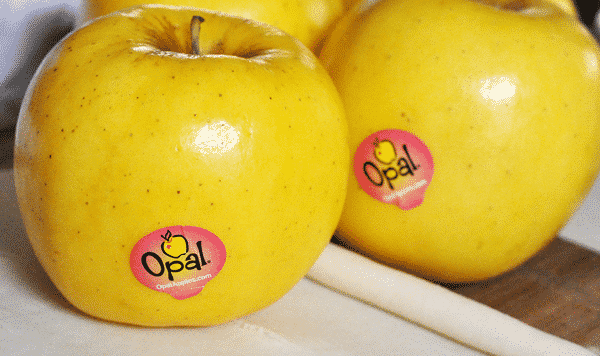 Every year, FirstFruits donates a percentage of sales of every case of apples to youth-led non-profits focused on issues surrounding food and nutrition.
Opal Apple – Taste the Difference, Make a Difference!
The Opal apple Youth Make a Difference Initiative funds youth-based initiatives serving communities in the U.S. where youth take leadership roles in the project. The initiatives must address food security and politics, nutrition or agriculture. In 2014, $75,000 was distributed to non-profits who fit this criteria, including Katie's Krops. Plus, if anyone is interested in receiving a grant, they can apply at http://opalapples.com/cause.aspx – how cool is that?
Broetje Orchards, growers of Opal, donates 10% of profits from FirstFruits to non-profits each year. Employees of FirstFruits form a committee and approval all charitable giving. Each grower also commits to contributing a minimum of 10% of their profits to charitable causes, with Broetje Orchard donating up to 50% to charities around the globe
Broetje Orchards also invests heavily in their employees and community, providing affordable housing, daycare and school as well as adult classes which accommodate work schedules.
What better way to introduce a delicious and healthy snack to your daily routine than with the tasty Opal Apple that gives back to the community! Eat well, be well, live well!
Recipes can be found at www.opalapples.com