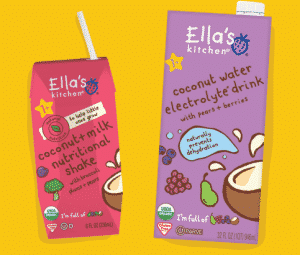 In many places across the country, kids have started school, little ones are heading to preschool and daycare or they are about to after the holiday weekend. And that means moms and dads everywhere are fighting that "what do I pack my kids for lunch" battle. Sure, it's time consuming to make a healthy and nutritious lunch every day for your munchkins but I'm here to tell you that there are some great alternatives out there to get you the most nutritious bang for your lack of time punch!
My friends over at Ella's Kitchen® already have a fabulous line of on-the-go fruit, veggie and whole foods products, made from organic and only WHOLE ingredients with no added artificial flavorings or colors. With their super convenient squeezy pouch meals full of not only healthy, but tasty ingredients, they have cornered the market on convenient, mess-free healthy baby and toddler food! And now, I'm super excited to introduce their newest line, Ella's Kitchen! Known for their great baby and toddler foods, Ella's is launching their line of new supplemental nutritional drinks, bringing the real tastes and big flavors that are in their pouches to the drinks for when little ones grow up!
A delicious line of nutritious coconut milk shakes and electrolyte* drinks, it boasts all new tastes to help kids, toddlers and babies, develop healthy eating habits while making it a fun experience by engaging all of the senses! We all know that sometimes little ones are picky about "healthy" options so the nutritional shakes in the Ella's Kitchen line adds essential nutrients to supplement a healthy diet, but not in place of, in terrific flavors kids love! And because of that, moms love EK too!
Ella's Kitchen® specializes in products "along the tiny taste bud journey", introducing a variety of flavors, tastes and textures for each stage of development. Part of why Ella's Kitchen is so unique is that they use real ingredients without fortification for the nutritional benefits. Unlike many conventional kids energy bars, products and sports drinks, Ella's taste journey is all about having no artificial flavors or colors and it supports the importance of real tastes in order to develop tiny and healthy taste buds, even for the pickiest eaters who need a supplemental shake!
Suitable for ages 1+, they are a great source of calcium, B12, B2, protein and Iodine while the coconut water drink replenishes electrolytes naturally. They are also non-GMO, kosher certified and contains no preservatives or thickeners. The fantastic new line of shakes and drinks is not only tasty but it is also organic and serves up a serving of fruit and veggies in every sippy box! In great flavors kids of all ages love like with fruit and veggies parents need their kids to have, it's the perfect marriage of flavor and function to keep growing kids strong and parents stress free!
Look for the new Ella's new line of nutritional supplement drinks at Target in September as part of their Made to Matter program, which brings together 16 organic and natural brands who all are introducing to Target innovative products that are made to matter!
Also, please be sure to join us tomorrow, on August 26th for a fabulous Twitter party to learn more about the Ella's Kitchen line and get to know other health minded parents! On twitter, be sure to join us using the #EllasFarmacy hashtag at 11am PST/2pm EST!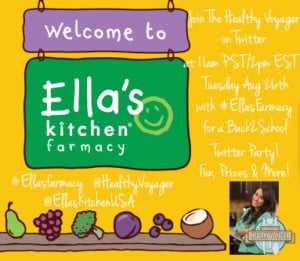 And don't forget to check out all the new flavors and products in Ella's Kitchen® Farmacy where you can download coupons for the drinks and mix-up your own shake flavor for a chance to win a Farmacy Fun pack and $25 Target gift card!