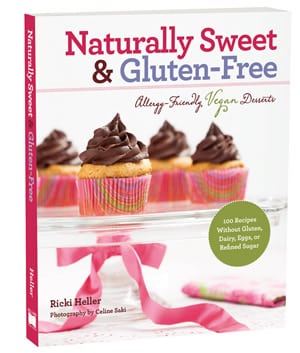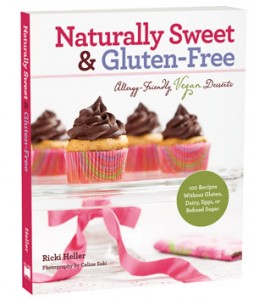 The sweetest time of the year is approaching what with candy filled Halloween
kicking it all off before we're in a full on
sugar tornado from Thanksgiving through the New Year.
While we all love sweets, it's really hard to indulge knowing that the sugar,
calories and processed carbs are no good for us.
Enter my friend Ricki Heller, author of the new, and super awesome
vegan baking cookbook,
Naturally Sweet and Gluten Free.
It's the saving grace of the holiday season!
Indulge all you want this year and beyond with Ricki's fabulous treats
that pack all the flavorful punch with none of the guilt.
Vegans, Celiacs and all sorts of special diet people can rejoice with  delicious recipes like:
Sweet Potato Chocolate Chip Mini Muffins
Lemon Blueberry Scones
Giant Baked Upside Down Apple Pancake
Notella
Walnut Cacao Nib Butter
Chocolate Flecked Pumpkin Seed Cookies
Chocolate Mint Chocolate Chip Cookies
Cinnamon Coffee Bars
Dalmatian Cheesecake Brownies
Coconut Whipped Cream
Chocolate Pecan Pie
Chai Cheesecake
Caramel Ice Cream
And More!
So be sure to get a copy for you and everyone on your holiday list so the holiday baking swaps can begin!