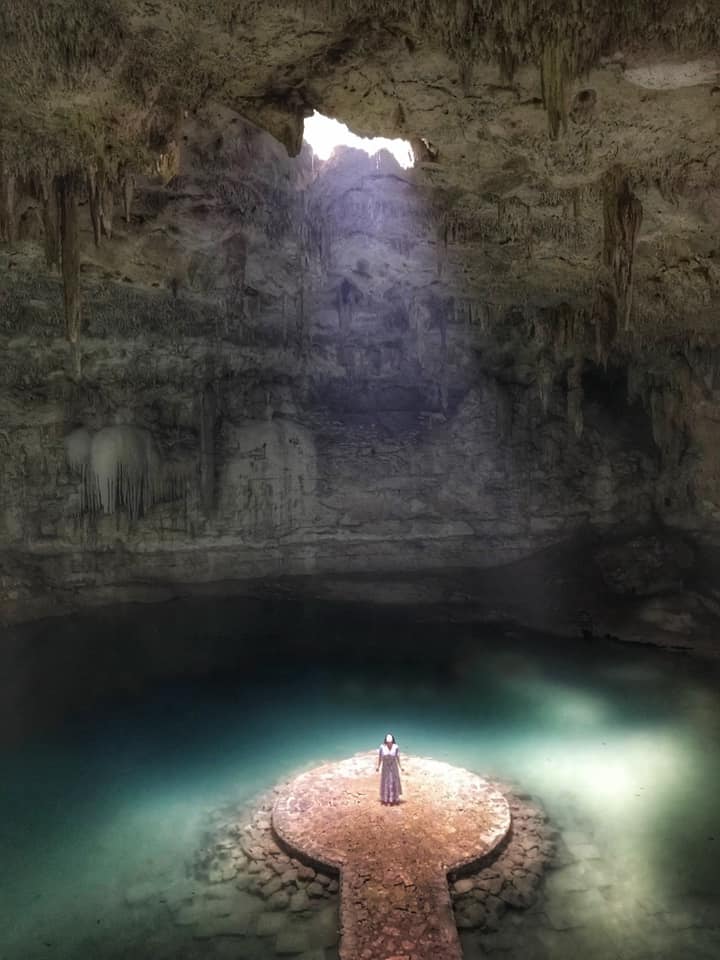 I also took a trip for the first time to the Riviera Maya, and before doing so I would have liked to see first-hand recommendations. I finally spent two months there exploring unmissable places.
In this post you will find a collection of topics including tips and places I think you should see in the Riviera Maya, tips based on my trip exploring between Cancun, Playa del Carmen and Tulum. If you travel there, you'll probably think about staying in a hotel making that easy and relaxed all-inclusive life. But nothing is further from what I would recommend doing. This region is full of wonders that make it more than recommendable to move around a lot, and this doesn't mean that you won't rest, but that if it happens to you as it did to me, you will enjoy it very much.
Best of all, it's very easy to do, even cheap. There are taxis, private transport from hotels, car rental companies and public transport.
I take you directly to the guide so you don't miss any of the wonders, so don't keep reading if you want to stop going to a place and say you didn't see it because "nobody told me so before".
The Riviera Maya covers a sector of the coast that starts just a little south of Cancun and goes up to a few more kilometers also south of Tulum, an extension that can be traveled along 140 kilometers, special to do by car point to point or by public transport. But before starting, it's good to introduce yourself to the main cities and destinations on the Riviera, as well as some tips for getting around:
To continue diagramming our stay, once we know which city to stay in, anyway my recommendation will be to move around a lot. To begin with, I leave a suggestion of route by ten points of beach and cenotes in the Riviera Maya. For this we chose to rent a car in Cancun with City Car Rental, a little known company that provided us with an excellent service.
Not so well known cities, cenotes and unmissable beaches on the coast.
Below are the beaches and some beach cities that I absolutely recommend to see. It is a selection of the most paradisiacal points and that better represent that Caribbean postcard that all come to look for in this latitude:
Akumal is an urbanization still not very invasive with the paradisiacal nature of the riviera, although unfortunately as it has happened in other points, the hotels that abuse the land begin to appear, and this sooner or later will end up playing against it. Akumal is still a quiet place, with uncrowded beaches, but in the part where you can observe turtles a little bit too much. Maybe you should apply some kind of restriction on the number of people swimming with turtles, I hope you take note.
In practical terms, Akumal is about 20 minutes from Playa del Carmen, and is a good place to stay, and escape by taxi to Playa del Carmen some night if you want a more lively atmosphere.
A beach with cenote and ecological reserve where turtles nest (Xcacel-Xcacelito) / (this is not a town, but a reserve, and one of the best undisturbed beaches in the Riviera Maya, with a reef and cenote where you can swim in a day visit. Situated between Tulum and Playa del Carmen it is ideal for a day trip to the unspoiled beach. There are no major amenities other than restrooms. Bring shade and plenty of sunscreen.
Xcacel-Xcacelito Reserve
Isla Mujeres and a beach that looks like a natural pool (one of the best in the Riviera Maya, reached by ferry from Cancun). It is undoubtedly one of the best beaches to see in the Riviera and a highly recommended day trip.
A giant natural open-air aquarium connected to the sea (Cenote Yal-ku, in Akumal) For me it was one of the surprises of the trip. From Akumal about 3 kilometers away you will find the entrance to Yal-ku, a park to spend the day in a huge cenote that connects to the sea. In practice, it's a natural aquarium with fresh and crystalline water where you can snorkel for hours, a paradise where you'll be charged an entrance fee to spend hours and hours even before the sun goes down.
One of the most beautiful and incredible beaches of the Riviera Maya (Xpu-há). I recommend you to go to the previous link to see the pictures and directions, and you will want to see this beach. It is about a 20 minute drive from Playa del Carmen, and has the most crystalline white sand and sea I could see during my stay in the Riviera.
Xpu-Ha Beach
An island surrounded by reefs and beautiful beaches (Cozumel). Cozumel is the largest island in the Riviera Maya, and one of the largest in Mexico. And while it has a city with all the services, the rest of the island is a world to explore.
To avoid any kind of inconvenience, to go to Cozumel we chose to use a Cancun Airport Transportation to Playa del Carmen, which left us right at the pier of the maritime transportation.
Two cenotes connected by an underground tunnel (Cenote Dos Ojos, one of the most recommended for its beauty). Knowing a cenote is indispensable in the Riviera Maya, and one of the ones that is a must for me (there are hundreds of cenotes) is the Dos Ojos, another one that is a few steps from the coast (actually about two kilometers away). All the photos and details in the link to spend an afternoon swimming in semi-open caves of turquoise water.
Cenote Dos Ojos
A summary of the 6 beaches that look like a natural pool in the Riviera Maya. This link is a selection of beaches in the same post.
Inland Excursions (Cenotes and underground rivers)
As explained in each of these posts, the cenotes are one of the attractions that must be seen in the Riviera Maya. They are a type of formation in the limestone that makes up the bed of the Yucatan Peninsula. Underground rivers were breaking up some parts of the rock to form amazing natural pools in the jungle. Some of the most recommended cenotes (among thousands of them) are
An underground walk along a secret and crystalline river under the jungle (this is a half-day excursion to an ecopark organized around an underground natural wonder, with a slightly high entrance fee, but justified by the experience, the guide and the safety regulations)
A cenote that looks like an open-air blue pool (Cenote Azul, between Tulum and Playa del Carmen, is one of the most beautiful and also the most economical. It is an option to spend a whole day or afternoon in a natural crystalline pool in the middle of the jungle). The next picture is in the Cenote Azul:
A vertical cenote near Valladolid (Cenote Oxman). If we visit cenotes near the coast, they won't be as deep, but if we go inland, the cenotes become real deep wells and where the geological phenomenon seems completely different. I think the photo explains it better, and in the link are all the details to visit it. By the way, it is near Valladolid, a magical town in Mexico on the way to the archaeological ruins of Chichen Itza.