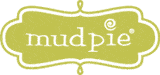 Tis the season of travel, trips and vacations!
The upcoming holidays will have us on the go and
Mudpie Gifts has a fabulous line of travel accessories
from jewelry cases to tall bottle cases and everything in between.
They've also got some great gifts for
everyone on your list!
Check out my video review below!