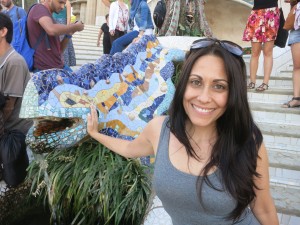 And I'm back! Barcelona is so beautiful from the beautiful Mediterranean beaches and waterfront activities and dining to the gorgeous historic landmarks. There is so much to see and do and the small streets are super fun to explore. Especially with a glass of sangria while eating spanish olives!
Here are some of my fun Barcelona tips:
You can climb up to the top of the Columbus statue and get a great view of the harbor!
Taking the gondola from the beach will not take you to the top of the mountain where the Castel Montjuic is. You must catch it from the subway tram that takes you up to it or a bus at the base of the Museu Nacional.
WiFi is pretty much available everywhere if you are dining and rely on it to use your phone. Be sure to ask for it as "weefee"!
Climb the towers of the Sagrada Familia, it's worth it for the view.
Eat veggie paella, tapas and Spanish olives. Drink lots of sangria and wine. You'll never have any Spanish food that comes closer to enjoying the real thing in Barcelona!
Use Roomorama.com to find great accocmodations! Roomorama is great when it comes to super affordable, clean and comfortable rentals all over Europe. We had a fab studio apartment with a kitchen just steps from the very popular La Rambla area!
Look to visit during any of their festivals and holidays as this city knows how to party! I was lucky enough to be there during the Merce' festival!
Ok, now the food!
Many locals would be the first to tell you that Sesamo is one of the best vegetarian eateries in town. And they would be right! With beautifully crafted, creative food, vegans can also rejoice too! The best deal is the tasting menu (they have a vegan one too!) Totally worth it with some wine and you get to try all their hits (like the mushroom croquettes!). Definitely a hip spot with great food located in a cool part of town, El Raval, Sesamo can be found at Carrer de Sant Antoni Abat, 52 – 934 416 411.
For a great lunch or dinner (or weekend brunch!) Vegetalia is the place. Vegetarian with tons of vegan options too, it's a great place for all sorts of diners. Caring about health and educating diners on vegetarian food, the decor is all about healthy ingredients and quotes on why vegetarian food is so great for so many reasons. The veggie paella is awesome as are their pizzas and desserts! And you can easily burn off all your calories by renting and eco-bike next door!
I love the concept behind La Bascula. A vegetarian co-op cafe, this place is all about organic, local and eco living. All plates, utensils, etc are biodegradable, the food is fresh and the ambiance is rustic and cute. Sandwiches, salads, pizzas and desserts go great with their wide selection of coffees smoothies and shakes. Pop into La Bascula at Carrer dels Flassaders, 30 – 933 199 866.
Last but not least is Vegetart! Such a cute vegan place that makes great desserts and food, all to go. It's small so don't plan on dining in, order a bunch of stuff and find a pretty place to enjoy your grub. The vegan spanish omelet (or tortilla) is awesome as are their cupcakes!
Well, Barcelona really took me by surprise with all the incredible vegan options but it's time to move on to another gorgeous European city. See you next week in Paris!