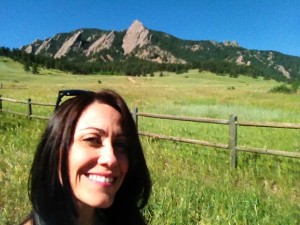 I'm back in Boulder for another round of awesome eats! This mountain oasis is super connected to its healthy roots so there is no shortage of delicious vegan and special diet friendly foods available here. So hop on your bike, get your dining passport ready and let's check out some more hot spots!
Having originated in Southern California, Native Foods is making its way east toward world domination! A great vegan "fast food" place, you can get killer sandwiches, soups, salads and desserts. Great portions and incredible variety, this place is always a welcomed place to dine for vegans and non-vegans alike!
You can't beat a hearty Mexican meal for lunch or dinner. Illegal Pete's totally delivers and boasts some fun vegan options. The big potato burrito or veggie tacos are great as is their variety of salsas at their famous taco bar. Make is casual, make it yummy, make it illegal!
I love the whole farm-to-table concept so Black Cat was on my must visit list. They do an absolutely divine vegan chef's tasting menu that can be done with or without wine pairing. Talk about gourmet, 5 star, be sure to wear socks so you can watch them be knocked off after your meal!
If you're looking for a great Boulder experience along with a good meal, Shine is your place. A great venue, and as they say, a gathering place, the vibe is terrific as is their fresh food. Their seaweed salad is one of the best I've ever had and for all you gluten free diners, the entire kitchen is gluten free!
I always ned a sweet treat when I'm away from home. Tee and Cakes is a Boulder staple, located in the downtown open air mall, they specialize in cakes and desserts, serve up awesome coffee and the local Bhakti Chai along with a daily special vegan cupcake!