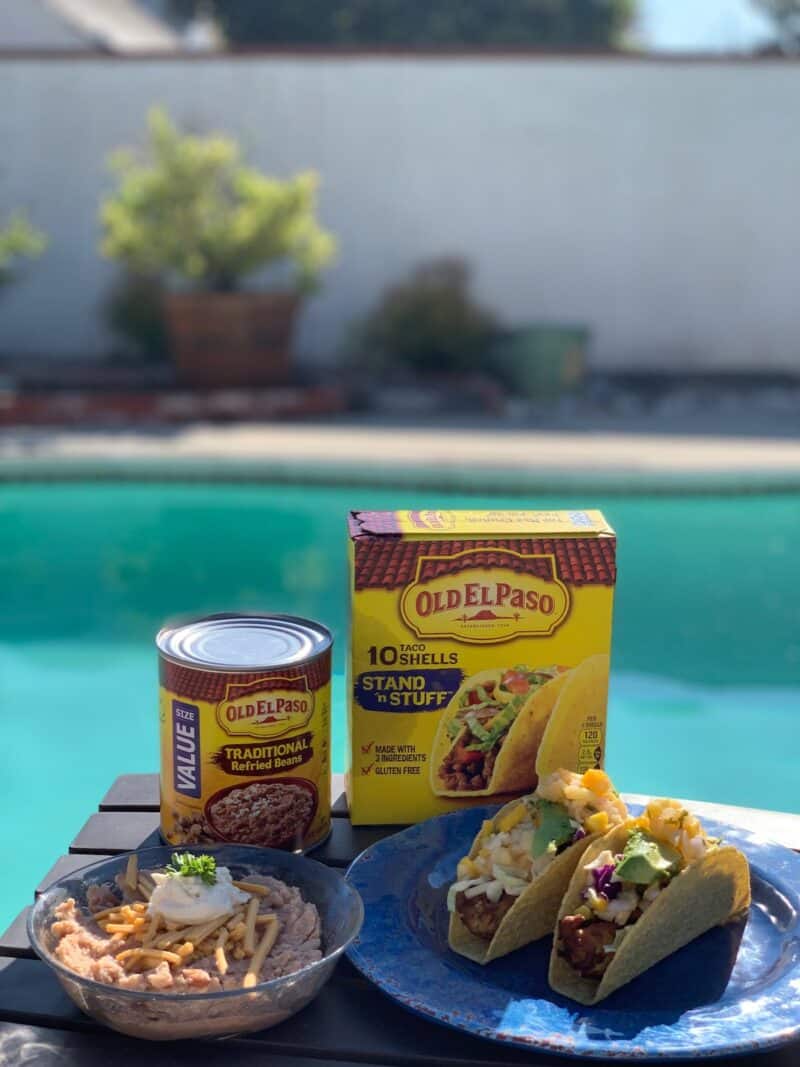 *This is a sponsored post by General Mills. All thoughts and options are my own.
Before we know it we will be sipping Pumpkin Spiced Lattes and sending the kids back to school but until then, we must savor every moment of summer. And that means not spending too much time in the kitchen prepping meals. That's why I love 
Old El Paso Stand 'N Stuff Shells
 and 
Traditional Refried Beans
 because not only can you make a tasty meal in a snap, tacos and summer go hand in hand!
With Old El Paso products easily available at your convenient neighborhood Walmart, you can stock up on a wide variety of products that can help make your summer cooking a breeze as well as super delish!
I happen to love the Old El Paso 
Stand n Stuff
 Shells because not only can you pack a ton of goodness in each shell, they stand up on their own so all the filling stays intact instead of all over the plate! Genius! Plus their 
Traditional Refried Beans
 are bursting with flavor and  go well with anything from tacos and salads to dips and wraps!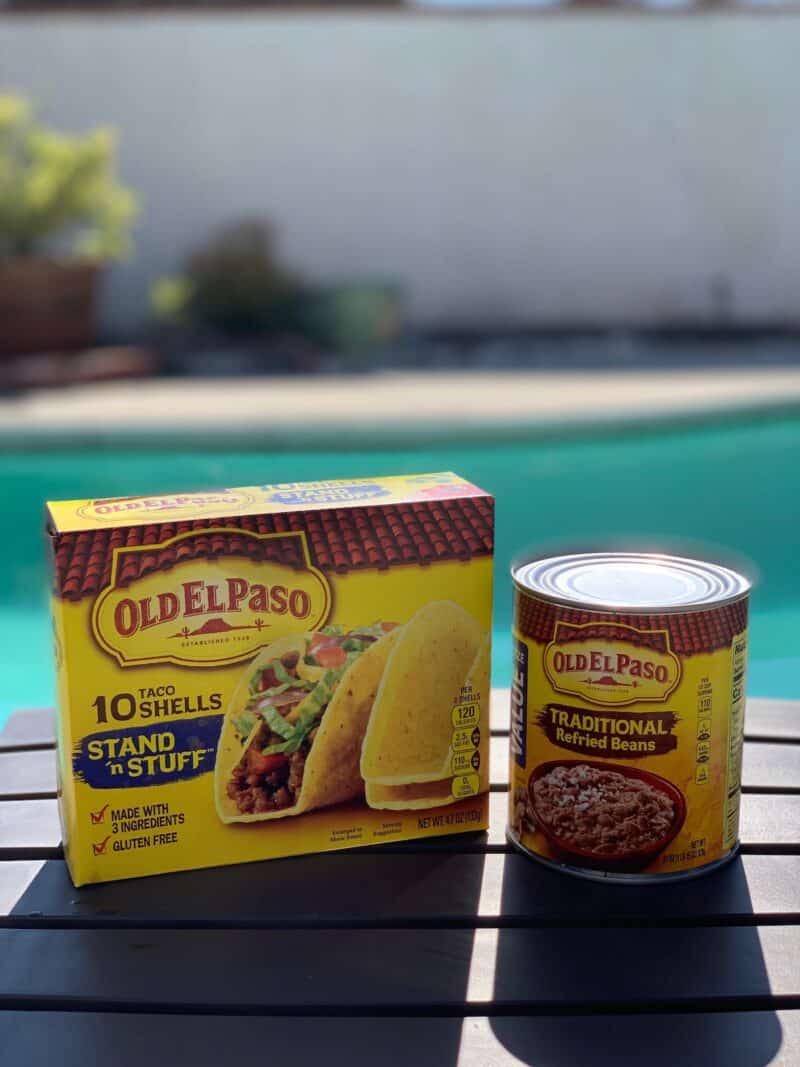 And as a special treat, I'm sharing my summer time Artichoke "Fish" Taco recipe with you as it goes perfectly with my fave Old El Paso Shells!
Artichoke "Fish"
1/2 cup vegan butter, melted
1 1/2 cups plain bread crumbs (gluten free if desired)
1 teaspoon old bay seasoning
Salt and pepper, to taste
1 (15 ounce) can quartered artichoke hearts, drained
3 cups high heat oil for frying
Heat oil in a small skillet to about 350°F.
Combine old bay seasoning, salt, pepper and breadcrumbs in a small bowl, mixing well.
Dip artichoke pieces in melted butter, coating well, then dip in breadcrumb mixture, making sure all sides are covered.
Fry breaded artichokes for 2-3 minutes or until golden brown. Remove artichokes from skillet and place on a paper towel to drain the excess oil.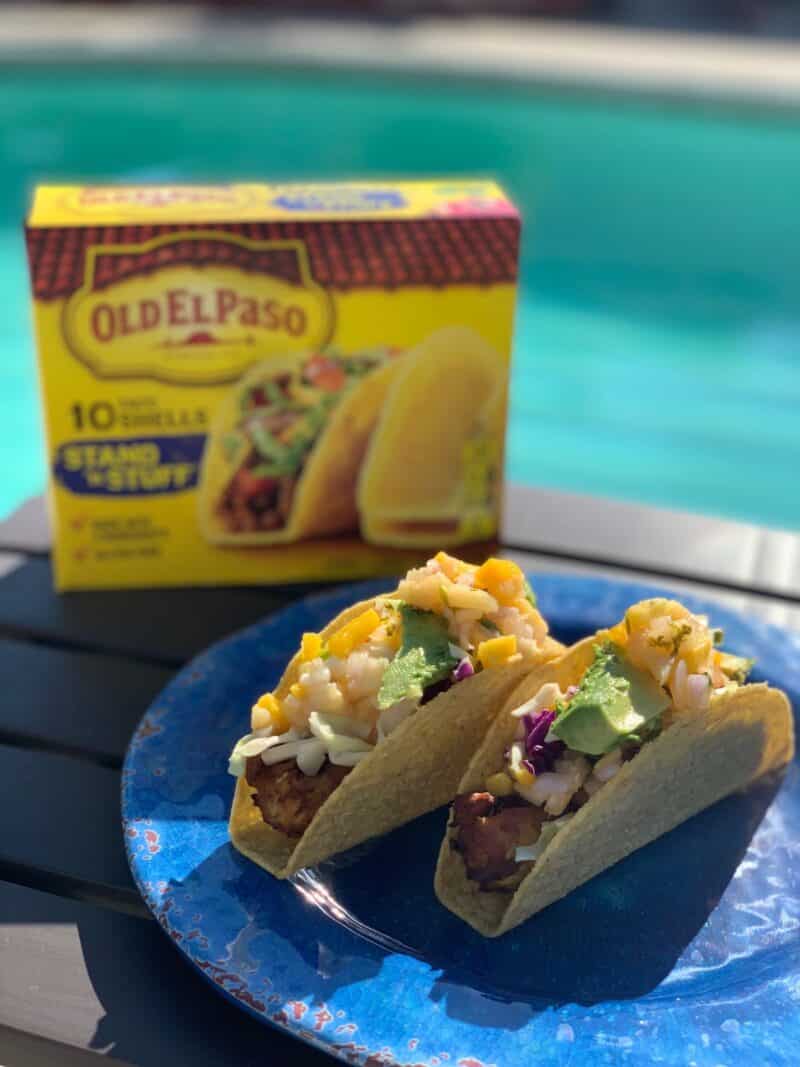 Tacos
Old El Paso Stand N Stuff Shells
Artichoke "Fish"
Shredded cabbage
Diced Tomatoes
"Fish" Taco Aioli (recipe below)
Avocado, thinly sliced
Grated vegan parmesan or vegan nacho cheese sauce
Cilantro, for garnish
Assembling the tacos:
Grill your corn tortillas on an open flame for a few seconds on each side to warm up and make more pliable.
On each shell, place a few chunks of artichoke then top with shredded cabbage, tomatoes, drizzle on aioli, a slice of avocado and top with a sprinkle of vegan parmesan or nacho cheese and cilantro. Serve with a lime wedge and enjoy!
1/2 cup vegan mayonnaise
2 teaspoon minced garlic
1/2 teaspoons fresh lemon juice
teaspoon lemon zest
1 tablespoon sweet relish
Salt and pepper to taste
Combine all ingredients in a small bowl and mix well. Refrigerate while making tacos.
So be sure to visit your neighborhood Walmart and stock up on Old El Paso Products today!