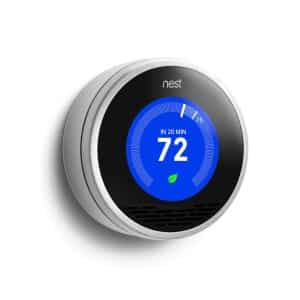 Upgrading to a smart thermostat is a no-brainer. First invented in 2007 by Stuart Lombard, smart thermostats make your HVAC system accessible via smartphone. Their voice controls and touch-screen interfaces make them easy to program, helping you both maintain the perfect temperature and conserve energy. When you're away from home, you can check into the system via smartphone app and adjust temperatures accordingly. Many smart thermostats even tell you how much energy you're using in real-time.
Although smart thermostats weren't invented until 2007, programmable thermostats have actually been around since the 1980s. Surprisingly, though, many Americans still don't use this energy-saving technology. Of the 85 percent of U.S. households that control their central heating system via a thermostat, only 37 percent of these households can program their thermostats. Similarly, of the 60 percent of U.S. homes that control their AC system via thermostat, only 29 percent are programmable.
From mercury-based thermostats to systems accessible via smartphone, HVAC systems have become incredibly accessible. Although the ancients developed rudimentary methods of heating and cooling their homes, the first mercury-based thermostat wasn't invented until 1620. From there, the American professor Warren Johnson was inspired to create the first electric thermostat in 1883. In 1953, Honeywell introduced its famous round dial thermostat, making it easy for household occupants to choose the appropriate interior temperature. In the 1980s, programmable units became available, followed by the invention of the smart thermostat in the 2000s. Over the years, thermostats have become increasingly accessible and more efficient.