February 24, 2009 from Your Daily Thread
Written by
Candice Dickens-Russell
Believe it or not, there is at least one small group benefiting from the economic downturn – young homebuyers. Many of my friends and I had been eyeing the Los Angeles housing market in despair for years. "We went to college," we think. "We have grown-up jobs," we protest. One friend even admitted to waiting for a natural disaster to lower house prices. "When the big one hits, then we strike," she confessed.
But now I know more young people who purchased homes in the last year than ever before. Indeed the L.A. Times recently reported that the First Time Buyer Housing Affordability Index rose from 20% in 2007 to 42% in 2008.
So now that we have the houses we've wished for, the question is whether or not we can keep the green building and decorating promises we've made over the years. You know, the recycled glass countertops, denim insulation, low VOC paints we've drooled over in Dwell or in online showrooms and vowed to use in our own homes someday? Despite the increased ability of young people to purchase homes, most are not turnkey properties but true fixer uppers in need of extensive rehab. And the reality is that green rehab can be expensive for people who are just becoming accustomed to parting with the mortgage each month.
I stand in the middle of the office/future nursery of our new home and groan. While I'm pleased with the concrete floors underfoot all set to be polished, I must admit that I came to this decision less than organically. After being told how incredibly difficult and expensive it is to put eco-friendly bamboo floors (our first choice) over concrete slab, and laminate floors not fitting the green recipe for the room, we've embraced the idea of polished concrete and in true eco-style, are working with what's there.
Maybe this won't be so bad after all. While I mourn our bamboo floors and meadow-like lawn and other lofty goals, I realize that some promises will be easier to keep than others, and that compromises can also come in green.
Promises: Dream Upgrades vs. Reality: Realistic Budget Compromises
Dream: Bamboo floors throughout.
Compromise: Polished concrete throughout.
Dream: A drought-tolerant garden.
Compromise: Adding drought-tolerant plants around existing plants.
Dream: All Energy Star appliances.
Compromise: Inheriting a stove older than I am and saving up to replace it.

Dream: All new double pane windows.
Compromise: Replacing insulation on all older windows and replacing them one at a time.
Dream: Tankless water heater with on-demand hot water.
Compromise: An improvised water recycling system in which water is collected in a bucket until it heats and used on some of those less drought-tolerant plants and trees.
Dream: Bamboo cabinets .
Compromise: FSC Certified Ikea cabinets.
Dream: Recycled glass countertops.
Compromise: FSC Certified butcher block countertops.
Dream: Energy efficient lighting with skylights to take advantage of natural light.
Compromise: Energy efficient light bulbs in all existing fixtures.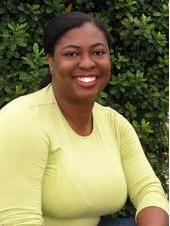 About The Guest Contributor
Candice Dickens-Russell is the Youth Program Manager and
CREEC
Coordinator at
TreePeople
. She has worked as a Secondary Education Program Coordniator for TreePeople's Generation Earth program and as a youth program coordinator for the Earth Resource Fund in Costa Mesa. She serves on the South Bay Business Environmental Coalition Board, the Green Advisory Board of the California Conservation Corps and the Los Angeles Environmental Education Fair steering comittee.