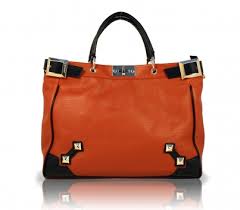 When your handbag is too heavy, carrying it can really make your back sore. So how do you limit the number of items you carry when there are so many things you need or may need throughout the day? Learn what items you should always carry with you and which items you can probably leave at home.
Some Makeup
Many women carry makeup in their purse in case they need to refresh it throughout the day. But it's not likely that you'll need to redo your entire look, so you don't need to carry all of the makeup you own. Instead, think about the items you might really need, like your favorite red matte lipstick and a powder compact, and place just those items in your purse.
If you don't own a ton of makeup and simply throw your entire makeup bag in your women's tote bag each day, consider purchasing two of the most important items so you have one for your handbag and one for at home. Then, you won't have to worry about transferring your lipgloss to and from your bag each day.
Phone, Yes, Other Electronics? No
Practically every woman carries her cellphone with her everywhere she goes, but what other electronics do you have in your handbag? Electronics can really weigh your bag down quickly, so you shouldn't leave your house with anything you won't need where you're going. Leaving electronics at home will make your bag lighter and give you more space, but it also keeps you from worrying too much about whether your purse is safe.
If you need to take your tablet or laptop back and forth to work with you, it's a good idea to have a separate bag to carry them in. This way if you have to stop at the store on your way home, you aren't lugging heavy items around in your purse. Also, be sure to put your laptop and tablet chargers in the separate bag too — laptop chargers are often pretty heavy.
A Little Loose Change
If you carry cash a lot, the amount of loose change you have can add up quickly and really weigh your bag down. Instead of leaving it in your wallet or throwing it in the bottom of your bag, carry a change pouch with you and empty the change you collect into a jar each night. Keep in mind there are times you will need change, so it's a good idea to carry a dollar or two in change with you in case you need to put air in your car tire or pay a toll.
Minimal Wallet Items
Between store discount cards, credit cards, debit cards, gift cards, and your cash, it's easy to fill up your wallet fast. Unfortunately, when you carry all of these items with you, your wallet can also become a mess, leaving you digging for the items you need.
Instead of cramming them all into one wallet, purchase a small pouch to hold excess store discount cards. Place the ones you use on a weekly basis in your wallet and the rest in the small pouch. You should also leave credit and debit cards you don't use regularly at home. Not only does this free up space in your wallet and keep it organized, but it also ensures you still have access to money if your purse or wallet gets stolen.
Necessities
You should limit the number of other items you carry in your purse too. For example, keep a small makeup pouch filled with first aid items and feminine products instead of carrying an entire box of bandaids and tampons. Also, if you like to have lotion, deodorant, hand sanitizer, or baby powder with you, buy the small travel-size items to keep in your purse and leave the full-size stuff at home.
When you're trying to decide what to put in your purse and what to leave at home, you need to remember that every item you add to the bag increases its weight. This not only is bad for your back, but it also causes your purse to wear out faster.