*This is a sponsored post in collaboration with the American Heart Association; all opinions are entirely my own.
We all have friends and family that we care for and in a time of need we do all we can to help. But sometimes, when caring for people, we also need help and that's where the American Heart Association Support Network comes in. The American Heart Association Support Network is a social community of care, where you share your experiences. and network with others.
The Support Network provides human connection and health resources for caregivers and survivors of heart disease and stroke. Helping and connecting adults who are survivors and/or caregivers of heart disease, stroke, rehab & recovery, emotional well-being, atrial fibrillation, venous thromboembolism, peripheral artery disease (PAD), congenital heart defects, etc. A wonderful community that helps those affected by all sorts of medical and health issues and all the problems that come with battling such things.
I know when my mother was taking care of my grandmother, it became quiet difficult to care for her while also holding down a full time job. Bringing in help worked for a while but I saw her struggle and having a support system when things became increasingly more difficult bit physically as well as emotionally was crucial. She wouldn't have been able to go on without that support.
With and estimated 117K members, the Support Network is an online social network made up of people just like you: survivors, caregivers, family members and friends whose lives have been changed by cardiovascular diseases or stroke. A place you can share experiences, offer guidance, provide support during challenging times, share your health story and ask questions. And because it is a home, a community of like-minded members, they take care of your heart and mind there. It is a safe place to share your story whether you're a caregiver or the person recovering as well as get professionally answered questions and connect with others in our 25 forums.
The support network is where you can make a connection. For life.  Where people can Engage. Encourage. Inform. Support. In fact, studies have shown that online support communities such as the support network can have positive physical and emotional benefits for those who participate, thereby reducing depression and improving quality of life.
Welcome home, to a social support network where you can learn more about your heart condition, have a conversation with others just like you, while you get emotional support after a heart attack or stroke. Join the conversation now…on your journey to a longer, healthier life.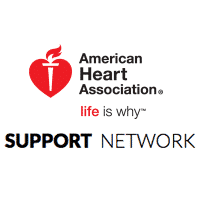 Signing up is free, easy, secure and there are no membership fees. Ever! Be sure to head over an join the community today!