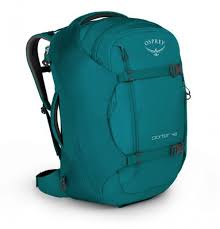 There are a lot of important things to consider when you're going travelling, but choosing a good backpack in vital. There are a lot of things you need to think about when you're selecting your bag, including its look, its durability and its ability to fit all of your desired belongings. But what bag do you actually choose? There is an almost endless variety to choose from, and some are a lot better than others. A lot of people make a mistake when choosing their bag, and it's often because they haven't done enough research on the topic- but you don't need to worry.
We're here to talk to you about the Osprey Porter 46 backpack and whether it's worth getting. This bag has become one of the most popular on the market in recent times, and there are a variety of reasons as to why. Let's crack into them. 
After you read our review, you should check out the review on the Osprey Porter 46 backpack by TheBrokeBackPacker. They have a lot of good points regarding the bag and are real experts in this field. 
First of all, you should know that this isn't a typical hiking bag. In fact, despite its mountaineering look, it's actually recommended that you don't use it for hiking or any similar outdoor activities. It's much better when it's used simply as a travel bag, such as when you are flying to a foreign country or are interrailing. It isn't the most durable bag in the world and is therefore better suited to carrying your belongings and not much else, but it's still really great at doing the job it's designed to do. 
This bag holds 46L of belongings, putting it in the middle of the spectrum when it comes to travel backpacks. It isn't great if you want to travel really lightly, and it's also not much use if you need to take a huge amount of stuff with you. If you buy this bag, make sure you've calculated how much you'll be taking and that it'll all fit in the bag. If you make sure you do this, this will be an absolute bargain of a purchase, providing you with great comfort and security when you go away. 
You also need to be careful if you want to be able to carry this bag on flights with you. As we mentioned before, it falls in the middle of the spectrum of bag sizes and therefore may or may not be accepted as carry-on worthy. It all depends on the airline and their regulations. If you're looking for a bag which is carry-on material all the time then this may not be the bag for you, but if you've done your research and know for a fact that it'll be allowed on your flight then you should definitely consider buying it- it really is a great backpack if it suits your travelling needs.