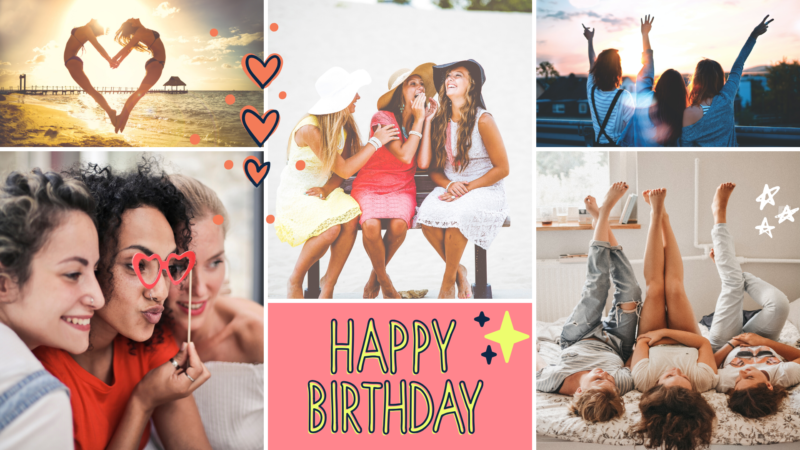 Looking for a creative way to congratulate your friend on his or her birthday? Then you might need some inspiration to present a special gift that your friend deserves. How about a collage with the best photos of your friend depicting the happiest and most important days of his or her life? Check out the happy birthday collage maker and make your present personal and truly memorable. These five simple steps will show you how to make a unique and perfect gift for your close ones.
Step 1. Browse Through the Templates
Start the program and choose a birthday collage template from over 350 options with various themes and color tones suited to every fancy. Find a design that speaks to you from classic grids to stylish collages with adorable clipart. Further, you can adjust the size and resolution and change the orientation from landscape to portrait if needed.
Step 2. Choose the Best Photos
Find the happiest and the most flattering photos of the birthday person and drag them directly from your folder into the template. Think of a common theme, for instance, add photos of you and your friend hanging out together or show some images with his or her hobby, like cars or traveling. Another great idea is to illustrate the birthday person's life journey, from childhood to the present. You can also add a picture of a cake to the happy birthday photo collage to make it more festive.
Step 3. Check Out the Effects
It is time to use all your creativity and transform your card into a personalized gift. Firstly, replace the background with a bg remover or different color or choose a texture. Alternatively, pick a photo from your PC. Depending on what your friend might like, choose a nice beach photo or a golden autumn forest. Additionally, change photo frames to go with the background and apply a filter to adjust contrast and brightness. Finally, add some clipart from a huge variety provided to make your card stand out: cake, balloons, flowers, etc. will complement your birthday collage design.
Step 4. Add Congratulatory Text
Although the happy birthday collage templates already come with birthday wishes, add some personal touch to them. Try to recall a funny story about the day you and the birthday person met or share your appreciation and explain why you love him or her so much. To make your text stand out, highlight it with a cute font and a bright color and design them with one of the built-in text styles. 
Step 5. Save and Make Your Friend Smile
In the world of modern technology, take advantage of the online options to share your gift. You can send it via Facebook or Instagram by simply saving it in the JPEG format to your PC. Alternatively, print out the birthday pic collage at home, wrap it neatly and give it to your friend at the birthday party. 
Surely, your friend will feel special and exceptional when he or she receives this wonderful gift. Besides that, you can use this program to create photo albums, greeting cards, and invitations – to make sure all your friends show up to your first post quarantine party. Stay safe!