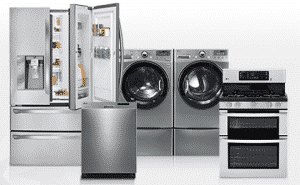 Modern manufacturing has made home appliances cheaper, more efficient, and more reliable than they ever have been before.  With so many choices, it's sometimes difficult to find the ones that really meet your needs.
As a result, many of us have things we don't even use. These unused appliances not only clutter up our living spaces but they will eventually also put a strain on the environment as well.
Of course, most of us can't live without our modern conveniences. This makes it important to carefully consider the things we choose to get for our homes.  We have a few pointers below to help you avoid getting appliances that don't match your lifestyle. If you're ready to find appliances that fit both your home and your lifestyle, check out 31 of the Best Online Appliance Stores you can visit today.
Make sure to buy with a specific purpose
Whenever you buy something, make sure that you do it with a specific purpose.  You generally don't want something that doesn't work well enough and you definitely don't want something that does work as you intended.
For example, if you're a coffee connoisseur, you may have balked at how expensive some highly-recommended burr grinders can be. You might have read that you can use a blender to grind coffee beans, so you consider getting a blender because they're cheaper and could be used for other things as well.
As it turns out, using a blender makes for some terrible coffee, and you never use the blender for anything else. That would mean that the "cheaper" blender did not give you as much value as a more expensive, but more functional burr grinder.
Check out the item's "footprint"
If you have a big house, you can pretty much ignore this. But if you live in a small space like a "tiny home" or an apartment, the space an appliance occupies can be absolutely critical. Sometimes you may even need to think of the trade-offs.
For instance, a full-size stand mixer might be incredible for a lot of things, but it's little use if it has to occupy more space in an already tiny prep area. By the same token, a portable AC unit might be easy to transfer from room to room but occupies way more floor space than a window unit.
Make sure you have a way to store them.
If the item you're considering only needs to be used occasionally, make sure you're able to store it properly.  This will not only keep the appliance in good condition for when you need to use it, but it will also keep it from cluttering up your living space when it's not in use.
Storage should be in an accessible area that's near to where you intend to use the appliance. For example, kitchen appliances that you need to bust out fairly often but not often enough to warrant keeping on the counter should be in the kitchen, not the garage or the attic. This will keep you from forgetting you already have it and make it easier to use when needed.
Check out their efficiency
Appliances today are far more energy-efficient than they were just 15 to 20 years ago. This is especially true with air conditioners, heaters, electric and induction ranges, and refrigerators. With these types of power-hungry appliances, make sure to check their energy consumption ratings, especially if you need to use them frequently.
Consider how often you plan to use it
If you plan on using something every day, it's usually worth paying extra for something that's more durable. While it may be more expensive at first, more durable appliances almost always come out cheaper in terms of cost per use, as you will tend to spend less on repairs and replacements. This is particularly true for appliances with electrical motors such as fans, air conditioners, mixers, food processors, and virtually anything else with moving parts.
As a general rule, if you ever need to replace something you own because you use it so often, make sure to spend the money for a real upgrade rather than for something that may be cheaper but is really only a step sideways.
See if their aesthetics fit in with the rest of your space
Ideally, your home conveniences should be as pleasant to look at as they are to use. Some appliances are works of art in their own right and while it's not immediately obvious, having appliances that inspire you can make them worth more to you than what their price tags suggest.