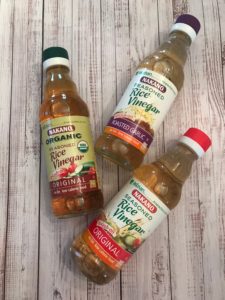 *This post was sponsored by NAKANO® Rice Vinegars as part of an Influencer Activation for Influence Central and all opinions expressed in my post are my own. 
Well, the holidays are behind us and the new year is in full swing. Resolutions or not, choosing healthier options is a year-round topic. While we want to still indulge in the foods we love, finding healthy swaps are a great way to stay on track without feeling deprived by creating better-for-you meals.
That's why I love NAKANO® Rice Vinegars! With seven clean-label varieties and even two organic offerings, NAKANO is a flavorful ingredient to have on hand in the kitchen and to splash on as a healthy substitute following the indulgent holiday season.  
NAKANO Rice Vinegars are healthier swaps for many of your favorite condiments as they are a savory, low-calorie alternative to high-fat dressings, marinades, oils or butter.  
The tasty varieties of NAKANO are: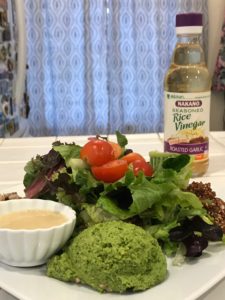 NAKANO Organic Rice Vinegar
NAKANO Original Rice Vinegar
NAKANO Original Seasoned Rice Vinegar
NAKANO Organic Original Seasoned Rice Vinegar
NAKANO Natural Rice Vinegar
NAKANO Roasted Garlic Seasoned Rice Vinegar
NAKANO Basil and Oregano Seasoned Rice Vinegar
NAKANO Citrus Seasoned Rice Vinegar
NAKANO Mango Seasoned Rice Vinegar
I'm a big fan of all of the varieties as they can be used in so many ways. The original and organic offerings are great to swap for any recipe that calls for vinegar as the NAKANO lends a rich and deep flavor to any dish. However, the seasoned varieties are my favorite as they really add a wonderful boost in flavor in everything from sauces, dressings, marinades and soups and even desserts! Try swapping a NAKANO seasoned rice vinegars when making your homemade dressings or the citrus and mango one in your next homemade syrup for ice creams and sticky rice treats!
Available nationwide in several delicious and tangy varieties, you can purchase any of the NAKANO Rice Vinegars clean-label and organic offerings at Kroger, Publix and Walmart.  
Ready to try NAKANO Rice Vinegars to help kick start your healthy new year? Be sure to use this coupon to save on 1 bottle of your choice of NAKANO rice vinegars3 $50 gift cards for winners to use toward their next energy bill
Here's to a happy and healthy new year!