*This post was sponsored by Honey Bunches of Oats Chocolate as part of an Influencer Activation for Influence Central. I received complimentary products to facilitate my review.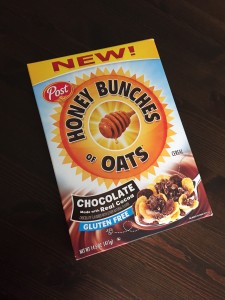 Breakfast time can be pretty hectic during the week what with getting ready for work and/or school. Many times, people go without eating breakfast or only have time for a bowl of cereal. And what complicates morning meal time even more these days, is finding a satisfying food that also fits our dietary lifestyle. Good thing Honey Bunches of Oats Chocolate is now Gluten Free!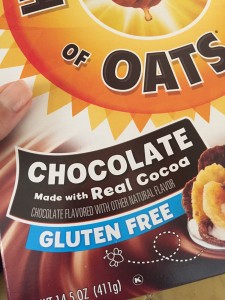 With so many people having to go gluten free these days, from kids to adults, the most important meal of the day can be quite challenging. Needing options that are quick and convenient, sometimes gluten free is difficult to find and finding great tasting gluten free options can be even more of a challenge. What's a person to do?
No matter if you are having to cut out gluten for health reasons or a just looking to decrease your intake of glutinous products as a preventative measure, finding tasty options that suit your dietary restrictions always feels like a win, especially when it comes from a major brand who is really listening to their consumers. Way to go HBO!
And a win it is as Honey Bunches of Oats Chocolate is delicious and versatile. A breakfast staple that everyone is sure to enjoy!
Honey Bunches of Oats Chocolate is not only tasty, it's now gluten free which opens up a whole new world come breakfast time. Honey Bunches of Oats has always been "dedicated to delicious" and now, this new chocolate variety is sure to be one that everyone will love. Who doesn't love crispy, crunchy cereal that incorporates the yumminess of REAL cocoa?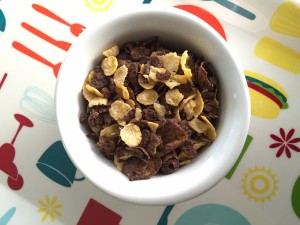 What's great too is that the new chocolate varieties are an awesome way to curb cravings as a bowl of this crispity, crunchity goodness is a much better choice for you and your family. And what's more is that you can use Honey Bunches of Oats Chocolate in all sorts of fun recipes too!
Like this one!
Gluten Free Chocolate Peanut Butter Cookies
Prep Time: 10 minutes
Total Time: 25 minutes
Yields 20 cookies
1–3/4 cups Honey Bunches of Oats Chocolate cereal, divided
1/2 cup sugar
1 cup creamy peanut butter
1 vegan egg replacer
1/2 cup vegan chocolate chips
Heat oven to 350 F.
Using a food processor, grind the Honey Bunches of Oats Chocolate cereal into a fine powder.  (Note: 1–3/4 cup cereal yields 1/2 cup ground cereal.)
In a large bowl, combine ground cereal, sugar, peanut butter and vegan egg.  Once all the ingredients are thoroughly incorporated, fold in chocolate chips. 
Scoop about 2 Tablespoons of cookie dough and drop onto a parchment lined cookie sheet, placing each cookie about 2 inches apart.  Bake for 13-15 minutes.  Cool on a wire rack.
So whether it's for breakfast or as a tasty, gluten free treat, it's time to try Honey Bunches of Oats Chocolate cereal!
Disclaimer: While Honey Bunches of Oats Chocolate complies with FDA Gluten Free labeling requirements, it is not manufactured in a dedicated facility. All ingredients, ingredient suppliers and production lines are thoroughly tested at multiple levels of production and evaluated to assure there is no risk of cross-contact contamination. As gluten intolerances and sensitivities vary from person to person, we encourage you to use your best discretion when choosing foods safe for you. Honey Bunches of Oats Chocolate aims to provide a delicious cereal for all members of the family to enjoy, including those with gluten sensitivities or allergies. Enjoy!