*This post was sponsored by J.M. Smucker Company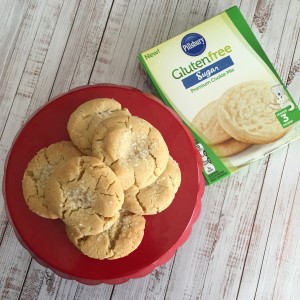 A few days ago I introduced you to Pillsbury's new line of gluten free baking mixes and frostings. Yep, gluten free varieties of cookies, brownies and cakes mixes as well as frostings, baking is easy, delicious and inclusive! There's never been a better time to "Mix up a Moment".
In fact, I'm "Mixing up a Moment" with my husband for our spring block party!  Our neighborhood is tight nit, helpful and fun. When we moved in 9 years ago, we were stunned at how kind and generous everyone was and still is. Each neighbor looks out for one another, celebrate holidays together, have watched the kids grow up and enjoy a few block parties throughout the year.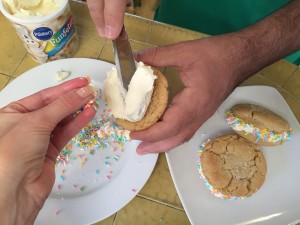 Pillsbury's new line of gluten free baking mixes and frostings is a perfect fit for this occasion for so many reasons. Not only does it save me time and money by not having to buy and mess with tons of ingredients, they are affordable and gluten free which means everyone at the block party will be able to enjoy my tasty Sugar Cookie Vanilla Cream Sandwiches!
It's so nice to have a simple and fun way to have my hubby in the kitchen with me baking. A complicated recipe would make it more challenging while choosing to buy baked goods instead of making homemade treats would rob us of a fun little experience together. The couple that bakes together, stays together!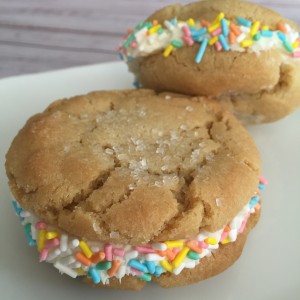 I adore the ease of Pillsbury's gluten free baking products as well as the time and money savings. Although the best part of all of it is sharing the process and sweet results with people I love!
So be sure to look for Pillsbury Gluten Free Premium Cake Mixes, Brownie Mix, Cookie Mixes, and Frostings at Walmart. The products are inexpensive and you are already in the aisle… you may as well stock up for all your spring baking needs!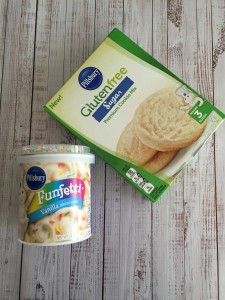 This is a sponsored conversation written by me on behalf of The J.M. Smucker Company. The opinions and text are all mine.