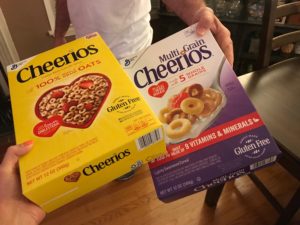 Love to Give? Give the gift of Cheerios by participating in the Buy a Box, Give a Box promotion! This time of year we have graduation season, Father's Day, birthdays and general summer celebrations. Who would you share a box of Cheerio's with?
If you speak to people who give to charity or otherwise perform good deeds, you'll often hear them say that they feel like they gain more than they give. As it turns out, humans are hardwired to benefit psychologically from doing good for others. You can improve everything from mood to your financial position, simply by being more generous.
Being kind and generous can have another interesting effect on mood. The more you give to others, the more positively you view the world around you. In other words, by acting in a positive manner, you are more likely to recognize positive attributes in those around you and feel more satisfied with the state of the world. Giving elicits feelings of gratitude and that expressing gratitude to a close friend or a romantic partner can strengthen our sense of connection to other people. What is more, cultivating gratitude is one of the primary ways in which to increase personal happiness. This includes not only getting gratitude from others, but expressing gratitude for gifts that you receive as well.
To illustrate how Cheerios and Walmart believe in the spirit of giving, no matter the occasion or time of year, watch the Love to Give video here: http://wm6.walmart.com/Gluten-Free-Cheerios
With so many varieties, there are Cheerios to share with everyone! Like these:
Family Size Honey Nut Cheerios
Family Size Multi-Grain Cheerios
Family Size Apple Cinnamon Cheerios
Family Size Fruity Cheerios
Family Size Frosted Cheerios
Find your code inside specially marked packages in stores and enter it on http://wm6.walmart.com/Gluten-Free-Cheerios to send a coupon for a free box of Cheerios to someone that matters.
To give is better than to receive, we all know that. It's time to put it into practice and put a smile on someone's face today!