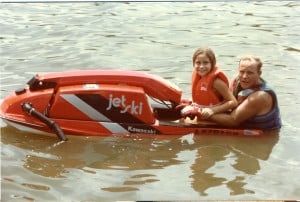 School is out, we've given mom her day and grads are partied out. It's time to shine the spotlight on dads!
Father's Day falls in the summer so it's a great time of year to get outdoors and spend some quality time with the dads in your life (fathers, hubbies, brothers and buddies).  Nothing is more appropriate for a fun filled Father's Day then some outdoor dining and adventurous activities.  You can get your dad any number of ties and gadgets but giving him an experience and memories beats any wrapped gift ; ) So,  I've whipped up a few dad approved recipes as well as some ideas for activities and adventure travel that might put a smile on his face this year!
First of all, think about what kind of guy your dad is.
Water sports enthusiast – If so, then consider Fathers Day gift ideas such as a jet boat ride, a day of scuba diving, surfing or a trip down the whitewater in a kayak. You can check out this article on the best kayaks brands. And renting a houseboat with the fam to tool around a lake is also a really fun, dad style getaway!
Speed guy – If that's the case then the way you should go is a day spent driving a rally car or an experience in a unique V8 supercar. If, on the other hand, dad is the type who likes the sky, then consider Fathers Day gifts like paragliding, hot air ballooning or skydiving.
Outdoorsman – How about a family hike or camping trip?
Sports freak – Get tickets to his favorite team's game or take him out to play. Shoot some hoops, play some golf, whatever his sports persuasion, gather the family and do it together
Dare devil – Try rappelling, zip lining or spelunking
If you want to top off a great day of fun or are just thinking of taking it easy that day, either way, cook up a storm of love that dad won't soon forget!