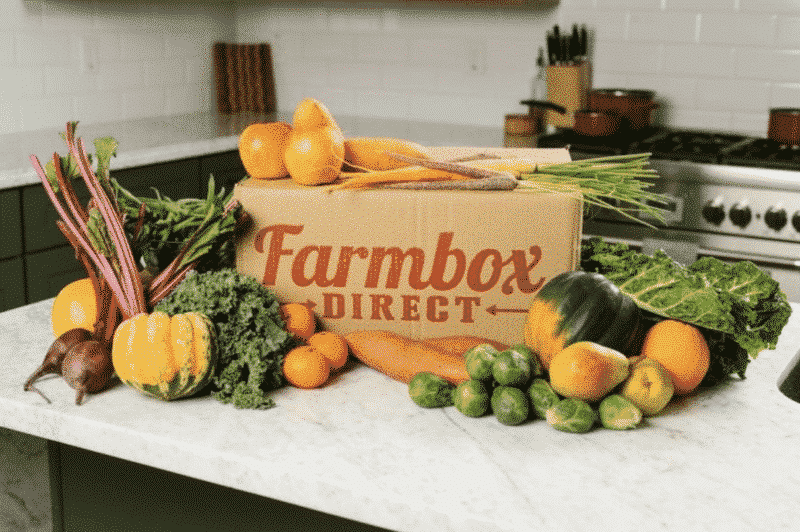 When was the last time you wondered about what's in your food? Could you be ingesting chemically engineered products that satisfy your cravings at the cost of your health? Most working moms and dads are too busy to think about these things! But the fact is that most foods you consume are not fresh, sustainable, or organic. They're grown with the help of harsh chemicals like synthetic fertilizers, hormones, pesticides, and more. 
If you're looking for sustainable, fresh fruits and vegetables delivered to your door, Farmbox Direct has you covered. Farmbox Direct claims to be a leading organic produce delivery service on a mission to provide everyone with fresh, healthy foods that don't cost you a fortune.
We tested the service and they're true to their word! Their super-friendly and easy-to-follow delivery system brings organic food to your table without the need to splurge on weekly market trips. Farmbox Direct's fresh organic fruit delivery service is fast, contact-free,and secure–designed with busy people like you in mind. 
Based on the experience of many people that we asked, let's see how Farmbox Direct can make your life easier. 
Fresh Fruits and Vegetables Online
Organically grown foods come packed with more nutritional benefits than their inorganic, commercial counterparts. They're safe for your health and boost your immune system. Farmbox Direct allows you to shop fresh fruits and vegetables online for home delivery, so you don't feel exhausted and get sick by eating unhealthy foods. 
You can order and get fresh produce delivered to your doorstep with a few clicks, easy-peasy. Most of us simply don't have the time to walk around the farmers market each weekend, thanks to our lifestyles. That's where Farmbox has your back. Head over to the Farmbox Direct website, choose from a wide selection of produce box types and sizes, customize your delivery schedule, and you're good to go! 
Naturally Delicious Food 
Chemical-loaded food is notoriously bad for your health. While it's ok to munch on processed foods once in a while, your everyday meals should have healthy ingredients. If you're concerned about your and the family's health, farm-fresh fruits and vegetables are the way to go.
Picked and packed  during peak ripeness , Farmbox Direct's nutrition-rich food tastes good, light, and refreshing. It's a good idea to include varieties of fresh fruits and vegetables in your weekly produce box to stay healthy and energetic. Farmbox Direct ensures your veggies and fruits supplies are always well-stocked. 
No Chemicals, No Problem 
We cannot emphasize this enough: chemicals are ruining the planet's health! From engineered seeds to harsh pesticides and synthetic fertilizers, most inorganic foods are harmful to you and the planet's health.
If you want to opt-out of this chemical-ridden food cycle, it makes sense to switch to organic and sustainable food. Farmbox Direct handpicks fresh fruits and vegetables from farms that use safe agricultural practices. 
Convenient Ordering and Delivery System 
Farmbox Direct has a user-friendly ordering and delivery system. Their order management, delivery, and payment methods are all secure and easy-to-follow. 
After you sign up for the weekly produce delivery, you get an email every Tuesday for the coming week's available harvest and fresh produce options. You can then customize your food boxes and choose your favorite substitutes (up to 5!) in a few clicks; no hassle here!
Farmbox Direct uses FedEx for uninterrupted and timely delivery. In case you have to skip or reschedule your produce delivery, just log into your Farmbox portal and adjust your delivery schedule at the touch of button and you can customize up to 3 month in advance. The company makes sure you never run out of fresh fruits and vegetables.
Reasonable Price
Farmbox Direct is the best produce delivery service, thanks to its reasonable price and fast and convenient delivery. There is this common misconception that organic food is costly. But Farmbox has proved that you can eat healthy without breaking the bank. 
Farmbox offers you a variety of packages at different price levels. The cost is relatively reasonable for all packages. On top of that, their team makes sure you get more value for your money by making fast delivery, straight to your home. 
Final Verdict
Sustainable and organic eating is the new trend for good reason. With all the benefits of fresh foods explained above, now is the time to go organic. The best part is that you don't have to spend huge sums of money or go through a hassle to switch to organic foods. With a wide variety of options and affordable delivery packages, Farmbox Direct's online fresh fruit and vegetable store is there to take charge of your weekly grocery hauls.