Summer is over and that means everyone is back to work and crazy schedules. From pre-school
and daycare, to after school activities and playdates, little ones will be tuckered out, exposed to
more germs and getting sick more than usual. Be it a tummy virus or a full on cold, it's important
to replenish and rehydrate toddlers and infants to get them back to their smiling and giggling
selves sooner than later. Fall and winter colds can really take their toll on little bodies so it's key
to find all natural ways to keep your snuggle bugs healthy!
Made from all natural, organic coconut water, fruit and vegetables, these electrolyte drinks
replenish loss of nutrients after activity or even during a bout with a cold or illness with extra
healthy benefits. Using real ingredients with natural rehydration properties, Ella's also keeps
their promise of offering a great alternative to conventional brands by having no additives, no
chemicals or fortification. Just pure goodness!
The two delicious varieties that are available now at Target stores nationwide as part of
their Made to Matter program are Pears +& Berries and Bananas +& Ginger! Both are wonderful
for little ones developing taste buds as well as being super nutritious. All varieties of the
electrolyte* drink are suitable for ages 1+, are certified USDA organic, certified Kosher, gluten
free and contain no additives, fillers, thickeners, preservatives, GMO's, artificial sweeteners or
colors.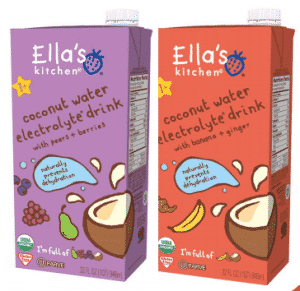 Each serving boasts 170 mg chloride, 110 mg Potassium and 120 mg Sodium for proper and
healthy rehydration. Plus they taste great!
So this fall when your little one starts sniffling, help their little bodies recover the natural and
healthy way with Ella's Kitchen new and tasty Coconut Water Electrolyte* Drinks!
And even though Ella's is perfect for infants and toddlers, recommended for ages 1 and up,
school age kids benefit too! From the football field to the ballet class, soccer practice to softball,
autumnal sports means lots of activity. While the heat may be gone, dehydration from such
vigorous activity is serious and electrolyte replenishment is a must.
So don't forget that little tykes to pre-teen soccer stars can get back on track the healthy and all
natural way with Ella's Kitchen Coconut Water Electrolyte* Drinks!
And don't forget to check out all the new flavors and products in Ella's Kitchen® Farmacy where you can download coupons for the drinks and mix-up your own shake flavor for a chance to win a Farmacy Fun pack and $25 Target gift card!