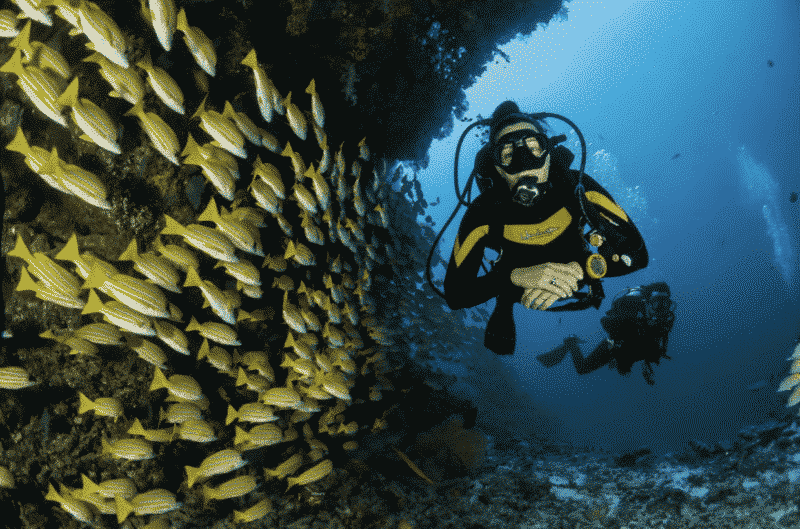 Scuba diving is one of the most popular water sports in the world. With an increasing number of people visiting beaches, it's no surprise that more and more are taking up this hobby. But before you go out on your own to explore the deep sea, there are some things you should know about scuba diving basics. This article will give you a few tips for getting started with scuba diving without any problems or mishaps along the way!
Choose a good location
While you can practice scuba diving anywhere, you'll want to choose a location with calm waters. If there's too much activity on the surface of the water or if there are winds and waves, it can make your experience more difficult and dangerous. It is best to go out when the weather is clear and there aren't many people around. This will allow you to practice scuba diving safely and be able to see all the amazing things under the ocean. You can try scuba diving while in Cozumel, Mexico, which is an excellent location for this type of activity. Keep in mind that the water is cold, so you'll want to make sure you're properly dressed before diving in.
Listen to your instructor
First and foremost, you should always listen to your instructor. If you already know how to scuba dive and are merely brushing up on your skills or taking the diving refresher course, then you can skip this step. However, if it's your first time learning about scuba diving basics, then it is important that you pay attention to what your instructor has to say. Instructors will show you the best techniques for diving and how to avoid injury or drowning. If you don't listen, it can lead to a quite dangerous situation underwater.
Being well-prepared is also very important when going scuba diving. The last thing you want is for something unexpected to happen while swimming in deep waters. You should always have your safety equipment with you and never take anything for granted. Oftentimes, divers will bring emergency signals just in case they are stranded at sea.
Safety equipment
When it comes to safety equipment for scuba diving, there are a few essentials that you will need to have with you at all times. These include the following:
Nitrox tank or oxygen bottle – Use of Nitrox or oxygen bottles is generally only permitted by experienced divers unless you're certified for this higher level of training prior to joining. This is because it can be difficult for inexperienced divers to understand how much they should use if it's their first time on either gas.
Nitrox is a gas mixture consisting of a percentage of oxygen and another gas, generally nitrogen. When it comes to scuba diving equipment, pure oxygen can be toxic at higher levels, so this mixture allows for additional breathing capacity in the air tank which you'll use during your dive.
BCD/Power Inflator – Your BCD or Buoyancy Control Device will be the device that supports the weight of your tank when it's fully inflated, keeping you at a safe depth underwater. This is one example of how important it is to get the right equipment, so you should investigate what BCDs are available on the market and choose one based on your personal preferences for looks, function, and style.
Learn specific techniques
One of the many scuba diving basics that you should know about is using your equipment correctly. When swimming around underwater, there are some things that you need to be aware of. For example, since there's less pressure above the surface of the water, decompression sickness is a possibility if you spend too long at a faster speed. You should try to maintain your speed and make sure you aren't going up or down too quickly during your dive.
Another one of scuba diving basics includes making your safety stop early on in the dive, as opposed to waiting until your tank is running out of air. This means you should stop every ten feet and make a safety stop for three minutes at five feet if your scuba diving instructors say it's safe to do so.
 If you're looking to explore the underwater world, there's no better way than with scuba diving. Scuba diving is a fantastic activity for anyone who wants to see what goes on under the ocean and get up close and personal with sea life. We've given some tips for how you can be well-prepared before your dive so that nothing unexpected happens while swimming in deep water. Remember to always listen to your instructor when learning new techniques of scuba diving basics! If you are looking for more information on scuba diving basics there is a lot of information available online.