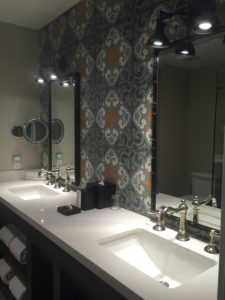 Among the most heavily used spaces in the home is the bathroom but is no longer just regarded as a place for getting ready for the day and the bed in the morning and the evening, respectively. Today's ideal bathrooms should be a mix of luxury and rejuvenation. Your bathroom might be old, dated, and not stylish or relaxing; maybe you ready to give your bathroom a facelift, but you're not sure how and where to start; maybe you disturbed by the thought of enduring a renovation project that can disrupt your home life. If so, you don't need to panic anymore since there are crucial tips you should put in mind when constructing a modern bathroom.
Introduce Ornamental free Standing Bathtub
The shape of the freestanding bathtub has been in existence for long since it is a classic shape whose dimensions serve the same purpose today as in times past. Antique and contemporary freestanding bathtubs are characteristically oval and decorative and can be positioned in the middle of a bathroom. Ornamental freestanding tubs should be placed at center stage in the heart of a luxurious bathroom. Most of these are adorned with an eye-catching plinth, which also hides unsightly pipework. The very best fixtures need to be sought since they play a significant role in making a bathroom come across as luxury. High-quality sink and a freestanding tub are among the things that will set an ordinary bathroom apart from the extraordinary.
Use Quality Materials While Creating a Bathroom
Quality is another crucial factor of a luxury bathroom that you must consider when thinking of a modern bathroom. The materials you choose to use in the creation of the bathroom are what come into play. Always think about the solid materials that exist and are used when creating a bathroom. Such materials include safety rails for shower, marble, granite, and quartz stand above and beyond other options in the market. They all look luxurious when used on the walls, the bath itself, or just on the countertops.  
Plan for High-quality Amenities
The amenities are one of the most significant assets that can make a bathroom more luxurious. This has nothing to do with the sinks or toilet, but instead, the little things like soft towels and lovely rugs. As soon as you walk into a bathroom and have soft towels, the high-quality products give off the feeling of pampering yourself by being in the space even for a short period. Highly Scented soaps as well lotions complete the aura that can whisk you away to a spa-like experience.
Design Your Bathroom to Give Beautiful Artistic Arrangement
Proper design of your bathroom will give you the sophistication to get to that level of luxury that you seek. The bathroom should be created entirely in-sync from the minute you step foot onto the first section of the floor. Ensure you design a style where the tub, shower, toilet, and sinks come together to give off one experience. You can attain an elegant atmosphere when you appropriately fit safety rails for shower and furniture that flows into space, giving way to a beautiful arrangement.