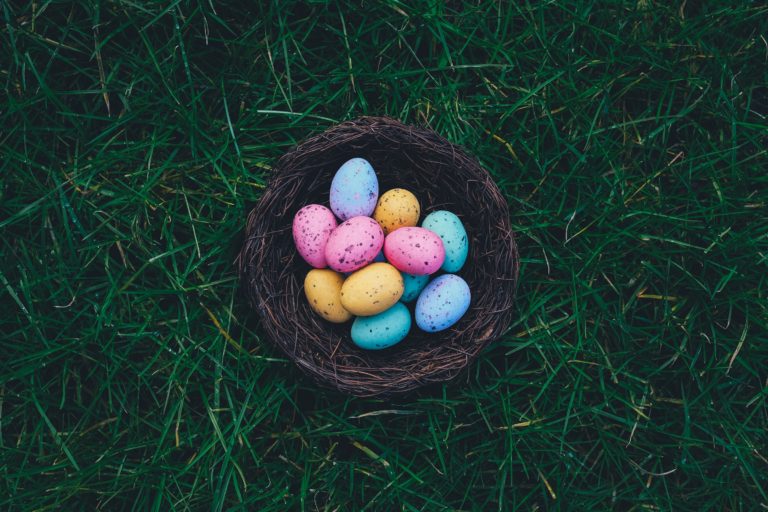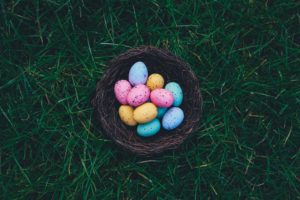 I love Easter because it celebrates the new life, warmth and colors that come with spring. It's a reminder of how beautiful our world is and how we should be as green as we can be every day, especially on holidays when wastefulness is high.
Easter is the perfect holiday to be green with all sorts of eco diy activities and crafts that go well with the fresh new florals! Try some of my healthy and eco easter tips and basket ideas below!
Opt out of buying cheap, disposable, plastic baskets. Not only are they not green and they fill up the landfills with junk, they are petroleum based and toxic. Buy a nice basket that can be re-used again and again either from a fair trade organization, arts and crafts fair or even thrift store!
Nix the Easter grass! Also toxic and dangerous, not to mention bad for the earth, plastic easter grass is the worst and a total waste of money. Shred green construction paper or grow your own Easter grass! Or opt for Eco grass ; )
Don't waste eggs, get creative with paper mache eggs, paintable ceramic eggs or find eco-eggs made from corn to hide treats in. Or check out eco eggs!
Paint wooden or ceramic eggs. A night out at a place like Color Me Mine is a great alternative to dying eggs at home. No real eggs and no mess! Put them out later for your egg hunt and use them year after year.
Buy vegan, local and fair trade candies to build the healthiest and most eco-friendly Easter basket ever!
Look for paper basket grass as opposed to the plastic kind. This "green" paper kind can be used year round for other gifts, packing materials, etc.
Bake vegan easter cakes in egg and bunny shaped molds. These are great in gift baskets, are healthier and cheaper than ordering stuff online that requires shipping.
Give children great illustration heavy books like pop-ups instead of toys they will grow out of an create more waste. Books nourish their minds and create wonderful memories.
Skip the candy and give creative gifts this year. Re-use a basket by covering it in left over, festive fabric. Fill basket with paints and crayons, small sketch books, stickers and blank t-shirts or socks to personalize.
Add some seed packets and celebrate spring with a new garden!
Check out some of my faves for kids and adults alike!
Chocolate, Candies and Treats
Baskets and Fillers
Here's "hopin" you have a great Easter!