*This post is sponsored by Dyson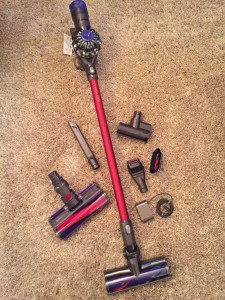 I LOVE entertaining in my home. From the planning to the cooking and decorating, it's all fun times for me. Except for the pre- and post-party cleanup. I've held off on throwing parties just because I didn't have enough time to clean, and sometimes I even limit certain activities, foods and even the amount of guests so that I minimize the amount of cleaning I have to do afterwards!
Well, the Dyson V6 Absolute Cord-Free Vacuum makes cleaning up a breeze. I can do a quick clean before and after, and I can get into all the spaces that I never could before – pesky cobwebs in corners that I want gone before people come over, crumbs left in the sofa cushions after people leave, etc. This machine is every entertainer's dream!
Nothing is worse than backbreaking cleaning, and Dyson not only saves your back but it also saves time and energy. Designed to give you a cord-free, hassle-free clean with Dyson's powerful suction, you can clean your space in a fraction of the time while never losing suction. The cordless line is lightweight and versatile, allowing effortless cleaning.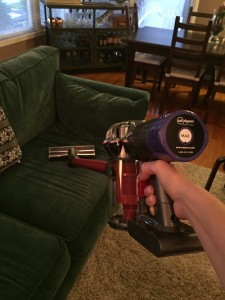 My Dyson V6 is my cleaning dream, as I can get all the crevices of my furniture, crazy corners in the bathrooms and even dust bunnies and cobwebs on fans. I don't have to do the whole balancing act on a ladder while wiping the fan blades into a bag, get on my hands and knees to reach tough corners or lift my heavy upright vacuum onto my couch. Dust, dirt, crumbs, grime – you name it, the Dyson V6 Absolute Cord-Free Vacuum does it all in a flash! Because I'm not tethered to a cord, I can clean just about anywhere.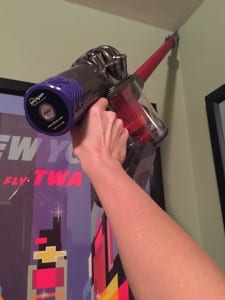 Cleaning doesn't have to be a chore. With Dyson V6 Cord-Free Vacuums, you can clean from floor to ceiling with Dyson power, without the hassle of a cord. Clean carpets or cobwebs in corners, or convert to handheld mode for countertops, couches and car interiors. No more lugging, plugging and re-plugging the old corded vacuum—just undock and go. For more on Dyson Cord-Free Vacuums, visit www.dyson.com. Join the conversation using #NoSpaceUncleaned and #CleanEverywhere.