Moms know that babies love to grab onto their
shiny, dangly jewelry.
And when it's teething time, it all goes in their
tiny little mouths.
Well, my friends at Chewbeads have
made teething friendly
jewelry that not only looks cute but is
functional and safe for baby
when those pesky teeth start to come in.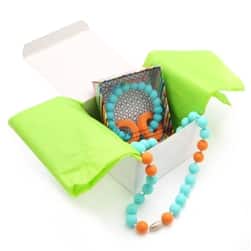 Made of 100% silicone,
all Chewbeads products are free of
BPA, PHTHALATES, LEAD, CADMIUM and METAL.
They are soft for tender gums and teeth
and come in cute
colors to go with any mom's look!
And that' why Chewbeads are Healthy Voyager Approved!