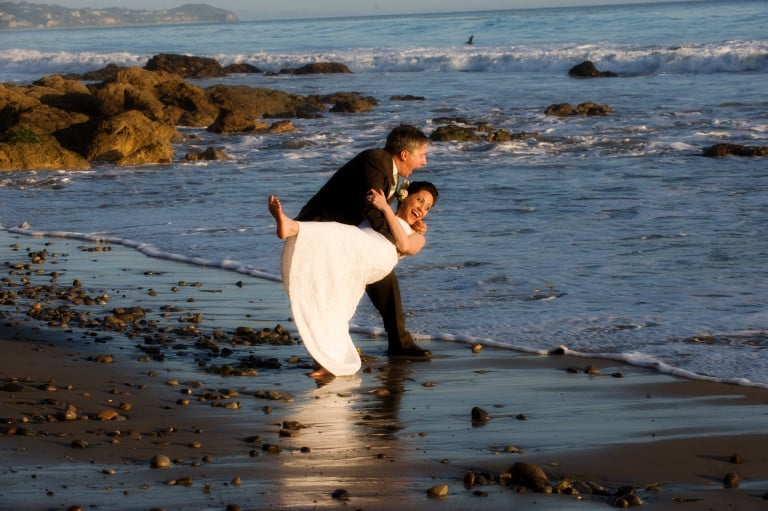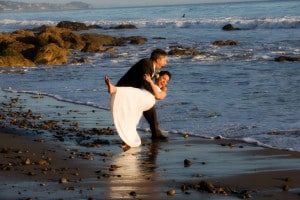 Some brides dream of getting married in a huge hall tucked away in the mountains while others aspire to exchange nuptials on a sunny remote beach.  A bride's preference is not as important as preparation.  Those who want to exchange vows with their toes tucked in the sand need to consider a number of elements related to a beach wedding bash.
Appropriate Dress
'Time and place' applies to dress, especially when it comes to a beachy wedding.  Some girls want a long, flowing gown but that is not a practical selection for a beach wedding.  Similarly, guests may be more comfortable donning cabana wear versus getting decked out in formal attire.  Wedding planners in Florida and California suggest lightweight fabrics free of lace and trim.  Choose chiffon or charmeuse, so the fabric will flow freely in the beach breeze without collecting sand and debris.
Moreover, choose a shoe style that works well on sand, such as flat-sole sandals, wedges – any variety that won't sink into the sand.  Also, depending on the time of day and normal temperatures, the sand gets hot.  Keep this in mind if you're planning on going barefoot.
Weather-Proof Hair
A wedding is the perfect time to do something grand with your hair, but yours will be outdoors, so you're a bit limited, needing to choose a style that is weather-proof.  Experts suggest an updo that can withstand wind and sand while looking stunning throughout the day and night.  Plus, an on-hand stylist can quickly maintain the style throughout the day so you'll stay looking perfect for pictures.  Beach wedding planners suggest staying away from a veil that will blow around in the wind and won't stay still for pictures.
Casual Men
Many men like the idea of going casual, and a beach wedding is a perfect opportunity to stay away from stuffy tuxedos and tight-fitting formal wear.  The attire should fit the ambiance and theme.  A beach wedding, though picturesque, is not a ballroom affair, so it's okay to suggest that the groom and groomsmen wear duds that look good but also comfortable and befitting to a beach scene.
Prepared Guests
Make sure your invitations indicate the type of wedding.  Guests may assume your 'wedding' will take place in a chapel followed by a party in a catered venue, etc.  You don't want them to be unpleasantly surprised to find out that they will be uncomfortable and completely unprepared to sit and party outdoors.  Of course, you can facilitate the comfort of guests by supplying them with sunscreen, hats, hand fans, bottled water, and hand towels.
Contrasting Colors
When most people think of a 'beach' theme, they immediately conjure light blues, browns, and greens.  However, the landscape will provide plenty of natural color, so rather than supplement the natural hues, choose colors that will largely contrast with the sand, surf, rocks, etc.  It may be beneficial to hire a local designer or florist who knows where to get seasonal flowers and art that will blend in well with the natural scenery.
Optimal Time
It's likely you are a sun worshipper, but think practically when deciding on what time you will exchange vows.  Having the sun hanging high in the sky is great for getting a tan, but if you're a guest sitting in clothes with the sun beating down on you, it can be more than a little uncomfortable.  Consider deciding on a morning or sunset wedding when the power of the sun is not as strong.  If you prefer an afternoon wedding, choose a site that offers some shade and escape from the powerful rays.  Since the wind and temperatures can vary greatly on the beach, stay on top of local weather and inform your guests via a wedding website about the current conditions.
Fun Photos
Taking pictures outdoors by the beach is unlike taking shots inside.  Hire a photographer that is well acquainted with taking outdoor shots, one who has experience with beach weddings.  The beach is a beautiful place to have a wedding, so you'll want to capture the essence of the elements in photos so you have them for a lifetime.  A professional should be able to use the natural surroundings to create incredible backdrops for your pictures.  Don't reserve all the fun for the bridal party.  Make guests a part of the shot by equipping them with sparklers, candles, etc.  View Wedding Sparklers Direct for details.
Unspoiled Food
You may have a few foods in mind before you start to make decisions, but realize that some dishes and desserts are not optimal for outdoor weddings, especially if the food will sit under the sun for hours.  For example, buttercream cakes will melt in the sun, so opt for fondant instead.  Talk to local food vendors who have experience in knowing what foods and beverages go well with outdoor venues and warmer temperatures.
Charlotte John became a wedding planner after planning her own magical wedding day several years ago. So many people complimented her on her own wedding that it seemed a natural career path, and one that she loves! She shares tips and ideas with soon-to-be brides online.