As October draws to a close, so does Breast Cancer Awareness Month. Pink gives way to orange as the seasons change but that doesn't mean we ignore the cause until next Fall. Breast cancer is the second most common kind of cancer in women, with skin cancer being the first. About 1 in 8 women born today in the U.S. will get breast cancer at some point in their lives.
Not only does a breast cancer diagnosis affect the patient, it affects all those around them as well as finances. Breast cancer patients with employer-sponsored health insurance spend $6,553 out-of-pocket. That's why, during Breast Cancer Awareness Month, Aflac will be partnering with the American Association for Cancer Research (AACR) again for its second annual "This Duck Wears Pink" campaign.
For most U.S. companies, fall marks open enrollment season, which means now is the time you can review your employer-sponsored benefits offerings and choose the health insurance policies that best meet your financial and health care needs.When caught early, the survival rate for breast cancer is as high as 99 percent, but the diagnosis can be accompanied by an expensive treatment regimen. Aflac's cash benefits can help policyholders pay the out-of-pocket costs associated with costly cancer treatments.
A cancer insurance policy can be used not only for treatment expenses not covered by major medical insurance, but also for extra child care that may be needed, transportation to and from the doctor or treatments, and even everyday living expenses, such as mortgage payments or groceries. If you or a family member does end up being diagnosed with breast cancer, or any cancer, you want to be able to focus on recovery not finances, and a cancer insurance policy can help you do just that.
Plus, with Aflac's recently introduced One Day PaySM initiative, which allows Aflac to process, approve and pay eligible claims in just a day, you can have the cash you need in hand faster than ever before. Watch this video video to see how Aflac's cancer insurance policy helped policyholder Celia through her breast cancer journey.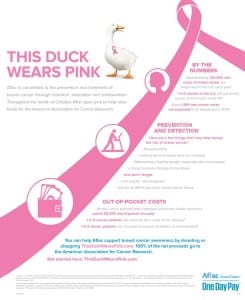 While Aflac can help cover you, here are my tips on prevention:
1. Engage In Early Detection Practices.
If you're going to fight breast cancer, it's important that you be able to recognize and respond appropriately to early breast cancer symptoms. To do so, it's important that you perform self-exams every month in order to locate any cancerous masses that may be forming in your breasts. In detecting breast cancer early, you can begin treatment immediately and prevent the disease from spreading to other regions of your body. If you do detect breast cancer, be sure to visit helpful websites such as the Breast Cancer Society. This type of organization will provide you with the helpful information and guidance necessary to get the diagnosis and treatment you need..
2. Exercise.
Numerous research studies have indicated a link between engagement in regular exercise and reduced risk of breast cancer. Since this is the case, it's a good idea for you to get in the habit of consistently engaging in physical activities that you enjoy. This could be a wide range of exercises, including but not limited to cycling, running, jumping rope, soccer, yoga, taebo, kickboxing, step aerobics, and weight lifting.
3. Limit Your Alcohol Intake.
Research has demonstrated that women who consume two or more alcoholic drinks each day are more susceptible to breast cancer than those who consume one drink a day or abstain entirely. With this idea in mind, do all that you can to limit how much you consume each day. You can employ a wide range of strategies to realize this objective, one of which includes replacing your love for a specific alcohol flavor with something similar (like a juice comprised largely of grapes.)
4. Eat Well.
We now know that diets high in fruits and vegetables are linked to reduced susceptibility to breast cancer. Since this is the case, make a point to start integrating these healthy foods into your daily diet if you're not already doing so.
If you're serious about getting healthy and fighting breast cancer, you should know that there are multiple strategies you can implement to do so. By using some or all of the healthy techniques outlined above, you will likely find that you are able to attain a greater dimension of well-being and vitality than ever.
Aflac is selling a variety of campaign-related merchandise including the plush duck, hats and a breast cancer ribbon pin, with all the net proceeds going to the AACR for the specific purpose of funding research aimed at finding a cure for breast cancer. Aflac supports the groundbreaking work of the AACR – the first and largest cancer research organization in the world with a membership of more than 35,000 professionals residing in 101 countries working on the front lines of the effort to eradicate cancer. The AACR backs every aspect of high-quality, innovative cancer research. You can donate and shop for merchandise here.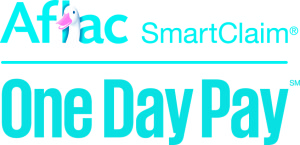 I was selected for this opportunity as a member of Clever Girls and the content and opinions expressed here are all my own.