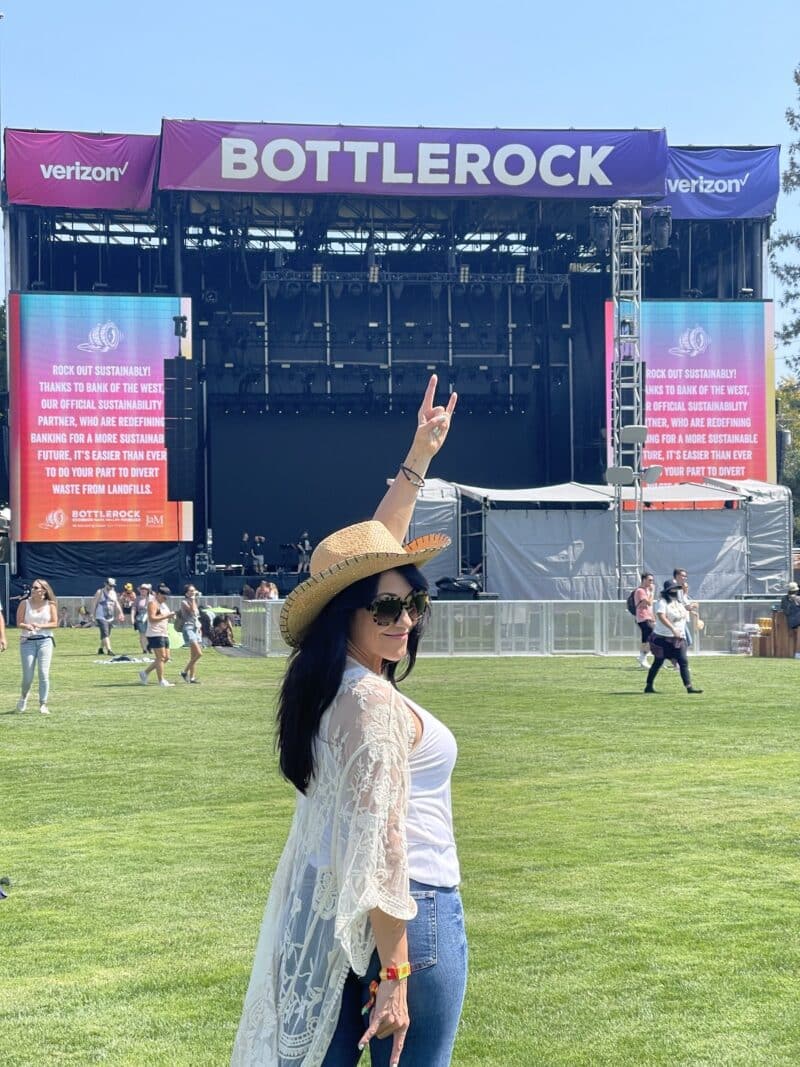 I am so excited to share with you my top tips on how to do Bottlerock! This super fun music festival is like no other out there. Combining music, food and lifestyle, Bottlerock attracts the best of the best.
This year the lineup was killer with headliners Guns n Roses as well as Foo Fighters bringing down the house each night. The three day festival is home to not only 5 music and performance stages, it also boasts a culinary stage complete with a pots and pans drum set! So rock n' roll!
The Williams Sonoma culinary stage is a real life cooking demo stage that hosts some of the most famous and renowned chefs that showcase their tasty skills alongside today's best musicians. It's truly a fun combo and a must see!
Seeing as how food and wine is a major attraction at this particular festival, vegans are not left behind. With the sheer number of vendors dishing out a huge variety of food, most offer a great selection of plant based options. I was able to sample everything from dumplings to pizza, tacos to poutine and everything in between. Yum!
Additionally, the festival has a spa with everything from massage to a hair salon to an IV hydration station for those who do it up just a little too much!
A three day music festival in the heat of summer can take a lot out of you so below are my top tips on how to do Bottlerock right!
Book your stay early – The festival is HUGE so hotels and airbnbs book up fast. Do your best to secure lodging as early as possible so as to avoid insanely high prices or having to stay over an hour away from the festival.
Book a locker for your duration at the festival – I love that Bottlerock is so well designed that they have lockers to rent daily or for the full 3 days. Even though it's hot in California over the summer, the nights can get chilly so be sure to bring a change of warmer clothes or a jacket and stuff it in your locker so you can be hands free all day.
Book parking ahead of time – Again, I can't stress enough how planning ahead will save you money and headaches. Knowing you have a parking spot paid for and reserved will help your trip to Bottlerock be a breeze.
Bring your own reusable water bottle – The festival has water filling stations throughout the venue so be sure to bring your own bottle so you can stay hydrated and save money as well as the environment.
Make sure you read the rules ahead of time – Going to concerts and festivals isn't as simple as walking in anymore. Clear bags are a must as well as a wide variety of other rules that need to be followed for entry. Make sure you know what to bring and what not to bring so entry is stress free.
Bring a picnic blanket – While there are some places to sit and cool off, most of the grounds are open fields in front of the stages. Bring a picnic blanket to throw down and chill between sets, have a snack or even catch a few zzzz's.
Sunscreen and hats – The sun is brutal and with so much open space for so many hours, it's important to stay sun safe.
Pace yourself – There is a lot to drink, eat and see along with a lot of walking and standing. Be sure to get plenty of rest each night and pace yourself while at the festival.
Download the BottleRock app – Stay on top of show schedules and offerings with their easy to use app
While there are a bunch of music festivals to choose from, Bottlerock is unique and a must do. Be sure to keep checking their website for next year's line up and more! Rock on!