Camping in the summer and fall is a super fun tradition.
However so many camping traditions
are inconvenient and even bad for the environment.
From lugging big old grills and stoves
out to your campsite to messing with propane
and charcoal, making s'mores can be
kind of a pain in the butt.
However, my new favorite camping and even picnicking
and beach going accessory is my BioLite Stove.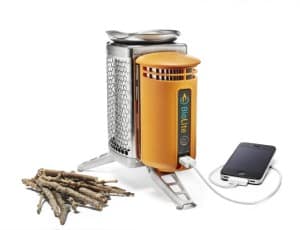 It's compact, it's cool, it requires
no propane or charcoal
AND it the energy it produces to heat your food
charges a battery that charges
your devices!
Quick set up, clean energy and
charged phones? Awesome!
The stoves cook your meals with nothing but the twigs you collect on your journey,
eliminating the need for heavy, expensive, polluting petroleum gas.
Quick to light, fast to boil and easy to use.
The CampStove isn't just for camping; it's great to have on hand when the power
goes out in a storm or other natural disasters. You'll be able to cook and keep electronics charged while power lines are down.
The heat from the fire generates electricity via a thermoelectric generator to power a fan creating
airflow for improved combustion. Surplus electricity is sent to the USB port for charging devices.
Plus they have fun accessories like a kettle
heat up coffee, tea or hot cocoa!
And that's why the BioLite Stove is Healthy Voyager Approved!