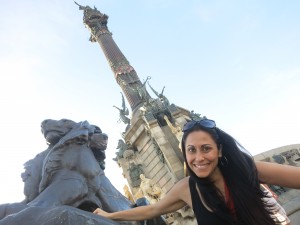 Spain is a beautiful country full of awe inspiring architecture, art, rich culture and delicious cuisine. And Barcelona is the perfect Spanish city.  Located on the Mediterranean sea, Barcelona is packed with historic sites, fun people and fabulous food. A definite walking city, it's easy to build up an appetite and I was totally stoked (and surprised) to find an abundance of delicious vegan options all over town!
The sites are breathtaking and depending on how much time you have, you could spend days discovering all Barcelona has to offer. Plus, you gotta make time to eat and drink! But if time is of the essence, here are my top 5 places to visit (non-food related) are:
Sagrada Familia (Gaudi Church – it's a marvel that is still under construction after 150 years!)
Parque Guell (Gaudi Park – looks like a real life candy land!)
La Rambla (fun shopping, dining and great thoroughfare to the sea and great plazas)
Parque Ciutadella (like the Central Park of Barcelona)
Museu Nacional de Catalunya (it's majestic!)
Now on to the food!
One of my faves was a vegetarian tapas joint that had just opened called Rasoterra. Totally chic and with a veg selection that rocked, it was hard to choose! But luckily, since it was tapas style, I chose a bunch of goodies ; ) From vegan gyozas to gourmet indian, fresh Spanish olives to vegan brownies, this place is perfect for a glass of wine and some super tasty morsels!
Now, I pretty much did cartwheels all the way to and from La Lujuria Vegana. Incredible vegan pastries and desserts with the delicate artistry of master sculptor, these vegan treats are some of the best I've ever had. Tiramisu and cupcakes that will blow your mind, among other deliciousness, be sure to get one of each when you stop in!
If you're in search of some comfort food as well as fun food on the go, Gopal is the place. Totally vegan and with a fun variety of sandwiches, burgers, snacks and more, it's a great place to get "traditional" vegan fast food, totally guilt free! The food is fresh, tasty and quick!
For a super chic experience, Teresa Carles is a must visit. Fully vegetarian since 1979, Carles has an ambiance and menu that is second to none. The decor is great and the style is so cool, even the menu design is awesome (as well as what's on it!) With tons of amazing vegan options, go hungry and bring a friend so you can try pretty much everything. It rules! Even their website is cool!
That's not all! Join me next week for some more Barcelona tips and eats!