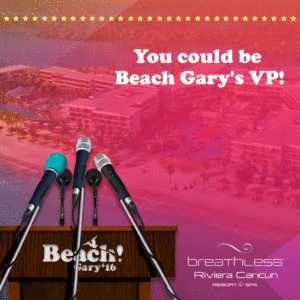 Are you dreaming of a luxurious Caribbean vacation? Well my friends at CheapCaribbean.com not only make it possible year round but they are also hosting one of the most fun contests around where you could win a trip for yourself and 15 of your friends/family to Breathless Cancun Riviera Resort & Spa! Wow!
CheapCaribbean.com is the ultimate resource for #TrueBeachLovers looking for a vacation that's less money, less worry and more beach. Customers truly dig their online deals, top-notch customer service and exclusive travel advice. And what's more, their spokesperson, Beach Gary, is running for President and looking for the ultimate running mate. Is it you?
To find the perfect VP, CheapCaribbean.com is holding a super fun video submission contest! Anybody can upload a :30 – :90 second video of themselves stating why they'd make a great Vice President for Beach Gary. They will then gather video submissions and narrow down the top 3 – 5 candidates, determining the winning submission from that field. Be sure to submit your videos to: www.beachgary4prez.com/vpcontest
As mentioned, the incredible prize for the winning VP with the most votes at the end of the contest is an out of this world, free vacation with 15 of their friends/family (their "Cabinet") to Breathless Cancun Riviera Resort & Spa, not to mention, the honor of being Beach Gary's running mate!
So what are you waiting for? Go shoot your best, most fun, most awesome video for your candidacy for VP and win that awesome Caribbean vacation for you and your closest friends and family!
Happy summer and good luck!